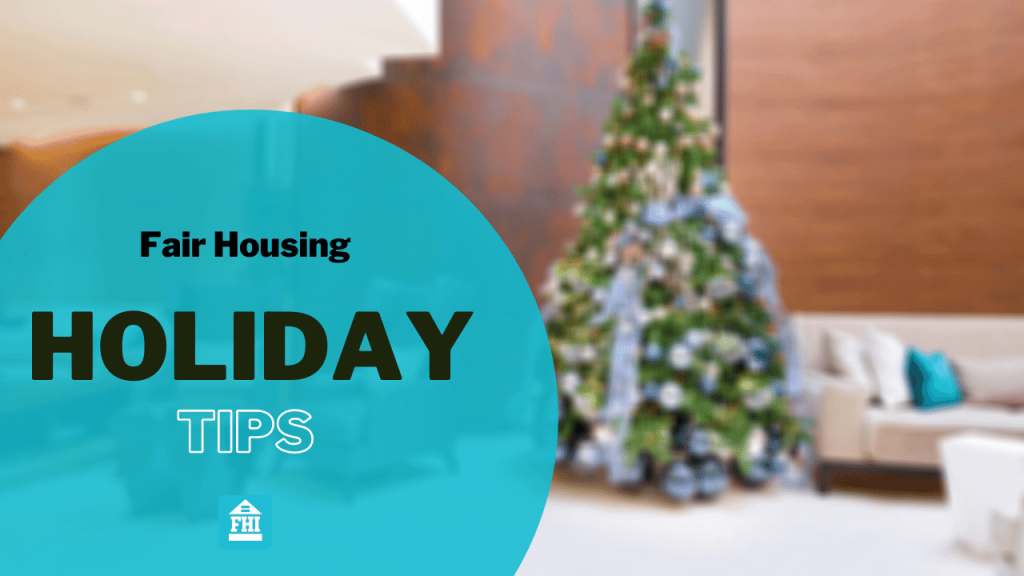 In this episode, we talk about fair housing and the holidays. What are some tips and best practices when preparing for the holidays and being fully inclusive? Be sure to check out the full episode and share it with your property management maintenance team.
Fair Housing laws have applications towards holidays and holiday decorations. Best practices and compliance need to be solidly based on Fair Housing law and not on personal opinion.
As a professional in the housing industry, you may be faced with holiday-related items that are simply viewed as potentially offensive and/or insensitive but that are not against Fair Housing laws.
That puts you as an industry professional into a bit of a quandary. What are the best practices when it comes to holidays and holiday decorations? Let's first see where Fair Housing law applies to holiday decorations.
Here are some common questions that come up.
We are entering the Holiday Season. Is it ok that the rental office is festively decorated?
My resident enjoys decorating their door for Christmas. Should I monitor what type of decorations they use?
Can I prohibit my residents from decorating their doors or patios at the Holidays to prevent those decorations from offending our residents who do not celebrate Christmas?
Last year a resident donated a large and obviously expensive Manger Scene to the property. Is it ok if I display it in the rental office?
What You Will Learn In this Article
Memorandum Advertisement Guidelines
On January 9th, 1995, a memorandum was released by HUD (Housing and Urban Development) that in part addressed Fair Housing holiday decorations. The subject was "Guidance Regarding Advertisements Under 804(c) of the Fair Housing Act". Here is a direct quote from that document.
"The use of secularized terms or symbols relating to religious holidays such as Santa Claus, Easter Bunny, or St.Valentine's Day images, or phrases such as Merry Christmas, Happy Easter, or the like does not constitute a violation of the Act."
So which protected class is being referenced? That's right. It's religion. What's the guiding principle behind the Fair Housing Act? You are right again. It's equality. Now that we can clearly see how the Fair Housing Act applies to holidays and holiday decorations, let's look into some overall best practices.
Enjoying this article? Be sure to check out – Fair Housing Advertising – Guidelines To Compliance
Community
Fair Housing Holiday Tip #1
Apartment communities are made up of many people with many different religious and cultural backgrounds. When having festivities and social activities for the community, especially around the holidays, are they inclusive? Would everyone be comfortable to be there?
While bringing everyone together as a community, be sure to put a little more thought and planning into a welcoming gathering for all. Think of EVERYONE in your community.
Choice of Wording
Fair Housing Holiday Tip #2
Fair Housing applies to your wording during holiday times. This can come from your mouth or on what you have on display. Be inclusive of everyone with your vocabulary.
When talking about a holiday party, it might be a good idea to note it as to be related to the holidays. Also representing it as open to all traditions celebrated.
There is a difference between using the expression 'Happy Holidays' versus the expression 'Merry Christmas'. Although the law does not prohibit the use of certain expressions, the principle is to promote equality and build a sense of community. Be beyond the law. Be cautious. Make everyone feel welcome.
Common Areas – Community Events
Fair Housing Holiday Tip #3
Your facility may have common areas that are used by your residents. Some communities have clubhouses, game rooms, sitting areas, etc. Whatever your policies are regarding the usage of these areas, be sure that they are all neutral. If your policies allow for religious activities, make sure your policy covers all religions.
If someone wants to reserve the common area for an activity, it should not be limited because it is not appropriate for the rest of the residents. The limits should only be for disturbing activities; for example, being too loud. All the limits should be equal for every resident.
Holiday Decorations – Best Practices
Fair Housing Holiday Tip #4
Holiday decorations for the inside of a resident's home should really be none of anyone's business unless they are breaking a community policy. For example, you may have a policy against setting up 20-foot trees inside an apartment that has only 10-foot ceilings.
Generally, there should be house rules to cover all decorations. This will keep it from being viewed as discrimination against religious or cultural decorations. Other than that it's really a decorative choice of the resident that does need to be micromanaged.
Document Resident Complaints
Fair Housing Holiday Tip #5
No matter what you do and how careful you are you will always have people who will complain. Make sure you address this with your team. Your team needs to understand how Fair Housing laws could apply and why. Address all complaints of religious discrimination. This includes complaints amongst neighbors.
It should be taken seriously, even if you personally believe it was of joking manners. Listen to the resident. Address the issue. Document – document – document everything. And remember to…document. The protected categories should be topics ALWAYS taken seriously.
Fair Housing Holiday Tips…Celebrate Diversity
Fair Housing applies to any and all holiday time periods. On a year-round basis, it is a must that housing professionals make their communities welcoming. Don't just follow the law. Understand the Fair Housing Act and its intent. Make sure your community eats, lives, and breathes equality. Have solid policies in place. By following these Fair Housing holiday guidelines and tips you will make it easier for you, your team, and your residents to have a happy and festive time.
Please keep in mind that our comments are recommendations and not legal advice. It is always good to confer with legal counsel.
Fair Housing and Holidays – episode transcript
Jonathan: Hello, everyone, and welcome to episode 12 of The Fair Housing Insiders. And today we are going to talk about fair housing and holiday decorations. Good time of the year to have that discussion. So we're going to discuss five different situations that come up quite often and how you can address them. And we'll look at some good tips. We thank you again, Kathi. Welcome to the show. Thank you for being here.
Kathi: Great to be with you, Jonathan. We're talking about one of my favorite subjects.
Jonathan: Beautiful. Now I'm looking forward to your insight. So thank you for everyone who's tuning in. Please remember to give us that thumbs up, stop and pause for a minute, and give us that thumbs up and subscribe to our channel. We appreciate your support of this complimentary fair housing education for our industry.
Jonathan: So let's get into our scenario. We're going to talk about five different things. So think of these questions, what do I do to make sure that I have a sense of community throughout the year? That's a good question. Number two, do I know the proper use of wording when it comes to holidays and fair housing? Number three, what about my common areas, and how do I show that I'm not putting myself into a situation where there's a fair housing violation by allowing the common areas to be used by all backgrounds? And number four, holiday decorations. What can you say is a lot and what can you not say is a lot? What are some things to think about in that fashion? Then the fifth item, why is it so important to document resident complaints? And again, we're talking about documentation within the context of fair housing and holiday time.
Jonathan: So let's get into our first scenario. Think about this scene as we look at it now, and here we have a prospect who's asking management about community events and what takes place at the property. So let's look at the scene, and Kathi, we'll get your feedback on it.
Speaker 3: So what kind of community events do you have?
Speaker 4: Christmas is one of our favorites. We have a big manger scene out in the front of the property and we have a Christmas carol contest where everyone can sing their favorite song about Jesus and win a prize.
Kathi: Jonathan, I think a lot of people do look to their apartment community to be a community so that they can participate in activities and get to know their neighbors and have some fun and have some festivities and some social activities along the way. And that is all good. I think where you have to be a little careful is remembering that in an apartment community, we have people from all types of religious backgrounds and cultural backgrounds. So as you're looking to activities to bring your folks together, try to make sure those activities are as inclusive as you can.
Kathi: Now at the holidays, it's fine to have a holiday party for instance, it's fine to sing songs. But those songs again, should be planned to be the ones that are the most inclusive and not the least inclusive. So all of that just takes a little thought, a little planning and to think about, "Is everybody here going to feel welcome at that event?" And I hope they do and I hope you have a great time.
Jonathan: Yeah, very good. Nice tip. The most inclusive as possible. And don't do what that leasing professional just did in that clip. So thank you for those tips. That takes us to our next common scenario that we face in property management and that's wording.
Speaker 5: Does it matter if we say Merry Christmas or Happy Holidays?
Kathi: Jonathan is kind of an awkward area. I think everybody feels this, not just in property management. And that is what kind of greeting to use around the holidays. Is it okay to say Merry Christmas? Is that somehow offensive? Should we just say Happy Holidays to everybody? And there really isn't a right and wrong answer. I think both are fine. I think Merry Christmas is fine. I think Happy Holidays is fine.
Kathi: Now, if you're talking to a person that is Jewish and you say Merry Christmas, sometimes they'll mention, "You know, we don't celebrate Christmas." And then hopefully you'll know and remember that from then on you don't say Merry Christmas to them. Most people do not get offended. They just will remind you. And then hopefully you'll remember.
Kathi: So I think that's something you can work out if you want to be extra careful. And I think maybe that's a good idea if you're talking about a holiday party that you're having in your entire community, maybe it's a good idea to post it as a holiday party and that all traditions are being celebrated and make everyone again, like we said in the clip before, make everyone feel welcome, regardless of whether they celebrate Christmas or Hanukkah or any other of the many holidays that gets celebrated in December in the winter time.
Jonathan: Yeah. Very nice. And I think it would also to your point, Kathi, would make us be a little bit more cognizant of our active listening skills. So how well do we know our residents? Because you mentioned, remember for the next time. So that takes a little extra effort on our part to do our best to remember what their background is and be able to respond appropriately to. So nice tips on how we can be inclusive to all backgrounds and cultures.
Jonathan: So that brings us to our third scenario and that's dealing with common areas. So in this scene, we don't want to do with the manager does here necessarily. A resident is asking the manager about renting the community area, a clubhouse or something along that line. Notice his reaction and his response. And we'll get your comments, Kathi, on that particular scene.
Speaker 6: I wanted to check and see if the club room is available for my Hanukkah gathering.
Speaker 5: Well, you do know most of our residents here are Christian.
Kathi: The question that this scenario raises is, do you make an effort to limit the activities that a resident is going to do in your community room after the resident makes an effort to either rent it or schedule it for an activity that they are going to do. And they're going to invite people to do. And so you don't have to rent out your community room to your residents. You don't have to permit them to use it. But most communities do. And if you're going to do that, then it's up to them what their activity is going to be. As long as they follow your rules about scheduling it and clean up and all of that, then you should not be trying to determine what their activity is. And certainly, if they're going to have a group of people that are going to come in for their activity, they're not inviting the entire community. [inaudible 00:08:48] matter whether their activity is in line with the entire community or not.
Kathi: Now that's different for when staff schedule a community activity in the community room. They should always invite everyone and not just a select number of people. And then it's up to the individual residents, whether they attend or not. But if you're going to use your community room for resident activities, it's up to the residents to decide what those activities are.
Kathi: Now, there are some limits, obviously. And those should be stated in your rules about what it means to reserve the room and make arrangements. Obviously, you can't have the kind of activities that's going to be excessively loud or upsetting, all of those kinds of things. But within those limits, certainly the staff should not be commenting on what the resident is reserving the room for.
Kathi: In this case, they're having a Hanukkah party and they're inviting their friends and that should only be supported by the staff person who's scheduling that event. And certainly they shouldn't be commenting on whether that activity is going to be appropriate for the remainder of the residents. They're not invited anyway.
Jonathan: Right, right. Very good. Awesome, awesome feedback. That's a nice well-rounded approach, Kathi. And I'm sure all of our listeners really appreciate that perspective. So thank you so much.
Jonathan: So that brings us to our fourth scenario and that has to do with holiday decorations and policies and procedures that may surround those holiday decorations. So our scene that we're going to look at now is a maintenance professional reports what they think is a violation to the community manager. And we'll see what the response is. And we'd like your feedback on holiday decorations, and policies and procedures, and making sure that as communities that they are fair housing compliant. So let's take a look at our scene. We'll get your feedback again, Kathi.
Speaker 7: The resident at number 604 has a Christmas tree that is out on the patio. I told them they had to take the tree down.
Speaker 5: Thank you for bringing that to my attention. That doesn't go against our policies, though. As long as the tree is not 20 feet tall, they're fine.
Kathi: This scenario raises all kinds of issues. And so let's take them one at a time. First of all, this issue of holiday decorations tends to be very sensitive, starting in November and building through December. And I can tell you that throughout the years, we always end up with some fair housing cases around that time of here about holiday decorations. So, let's start out with just a general rule about holiday decorations. And that is management gets to inform the residents whether they can decorate outside their unit. Obviously, you don't care how they decorate inside their unit, as long as they don't damage anything. But do they decorate their door for instance? Is that okay? Do they decorate their patio? And is that okay? And you can say yes or no to either of those, but once you do, then it's up to them to decide what kind of decorations they place in the area immediately around their apartment, their door, their patio, that kind of area.
Kathi: And if they want to use a Christmas tree, then that's their business. Obviously, you might have some concerns about electricity and the use of that outside. You can have additional rules about that. Likewise, if they're going to decorate their door, you might have concerns about them using electric lights on their doors, and that would be appropriate. But the kind of decorations use should be up to them. Other than putting some type of decoration that is disturbing or inflammatory. And we kind of know what those are usually. And so you certainly can have boundaries. But they get to decorate using religious decorations. Again, if you're going to let them decorate, if they choose to use religious decorations in their apartment and immediately are outside their apartment, if you let them decorate those areas, if they want to use religious decorations, that needs to be okay.
Kathi: And then you would put a boundary at someone who is decorating in a way that is clearly inflammatory, clearly upsetting to other people. That's not meaning that it's different than that person's religion. That's not what we're talking about. We are talking about things like swastikas and hate statement and things that are clearly going to be upsetting. And that probably includes at this point, the Confederate flag is very upsetting to a lot of people. There are those areas. But other than that, they should decorate however they want to within the limitations of what the policy says where they can decorate.
Kathi: Because this is such a sensitive area, you need a topic, I'm sorry. You need to address it not just at holiday times. This to be something that is in your house rules that is discussed and that for heaven sakes, you don't have your maintenance employees running around making statements about it that might be incorrect. So the maintenance employee telling the resident to take down that tree might be very upsetting to that resident. And the maintenance employee might be wrong about that if you let residents decorate their patios.
Kathi: Now, if you don't, then it's up to management to send the resident a notice, an email, stop by and talk to them and mention, "In the house rules, we say, there are no decorations on your patios." And not making it an issue of Christmas or anti-Christmas or anything like that. So again, some thought, some advanced prep work on this area is good because it is highly sensitive so that your rules are clearly stated and discussed and not just on December 15th, which is when all of this tends to become a problem.
Jonathan: Right, right, right. Awesome. That was amazing. So great, bigger picture. I love how you brought it to how the policies should encompass the whole year. Not just a certain time of the year. And how the maintenance professionals need to be very well trained on what they can and can't say. So thank you, Kathi.
Jonathan: So that brings us to our fifth scenario and that's when a resident is making a complaint. So we're going to look at a scene right now on a resident, made a complaint about someone. And what not to do if you are the one who's receiving that complaint. And we'll look to you, Kathi, for feedback on what we should do. So let's take a look at our scene.
Speaker 8: Hi. I need to report something that my neighbor at apartment 105 said to me about my religious decorations.
Speaker 5: Oh, that was Bill again. He's always cracking jokes. I wouldn't worry about him. He's harmless.
Kathi: Well, this scenario raises a really important issue that goes way beyond holiday decorations or even holiday time. And that is you need to be sensitive and aware of the fact that management cannot permit harassment based on any protected category. And we all know religion is a protected category. So if one resident is making comments to another resident, and that resident believes those comments are harassment because of their religion, you need to take that very seriously. And by taking it seriously, what we mean is you need to hear the resident out. And even if you don't think that the other resident meant anything derogatory or negative by saying that, that they were just joking around, your response to the offended resident can't make that joking around even worse because now management is joking around about that person's religion.
Kathi: So what do you do? You listen to them thoroughly. You spend time hearing them out. You write it up as a complaint, possibly of religious harassment. And now you need to go and hear the other side of the story, discuss it fully. Again, taking it very seriously. Not like, "Mrs. Jones is so irritating and so sensitive about this." You take it, you hear it, you discuss it. And now hopefully you can resolve it by taking it seriously, talking to both residents, hopefully getting some resolution. Maybe warning the one resident that, "You may not have realized that this type of statement can be a violation of the law under certain circumstances. And so we don't joke around about that. We take it seriously as management. We hope you will too from now on." Warn them about it and assure the offended resident that you've dealt with it. And that it shouldn't happen again. And if it does, they should let you know.
Kathi: Now if that kind of thing happens again, then I would see that as a lease violation, if indeed the statement was made. I would deal with it very seriously the second time around again, because if management doesn't take it seriously, management can be liable under the Fair Housing Act for acts of religious or any other protected category harassment that occurs that management knew about. And in this case, you did because the one resident came and complained to you. So not just at holiday time, but all year round, management needs to be sensitive for this topic of what I call illegal harassment because of someone's race, color, religion, national origin, familial status, disability, or sex.
Jonathan: Right, right. Very good. And again, thank you Kathi. Nice way to really apply this. This isn't just something that we need to do at a certain time of year, but year round, documenting when these incidents happen and making sure that we follow up. So thank you very much. So thank you for your insights. We're so happy that you joined us again today. Appreciate your years of experience and what you bring to the table as always on our episodes.
Kathi: And just in case, I do have to wish you all a very Happy Holiday and I hope that we are looking forward to a brand new year.
Jonathan: Very nice. Thank you so much, Kathi. Yeah, it's been a crazy year that is absolutely for sure. So we appreciate all of you. We want to send you a big thank you for all of your support here in 2020. Don't forget to hit that subscribe button. Please give us a thumbs up if you've enjoyed the show. And we look forward to our next episodes. We have a whole lot planned for 2021. So we appreciate your support.
Jonathan: Make sure you visit us at fairhousinginstitute.com. Be sure to check out all of our online course options. And we thank you if you are a customer for being a customer. And we look forward to your business for the future. Thank you again, Kathi. Thank you everyone for being here. We'll see you on our next show.
You May Also Like: