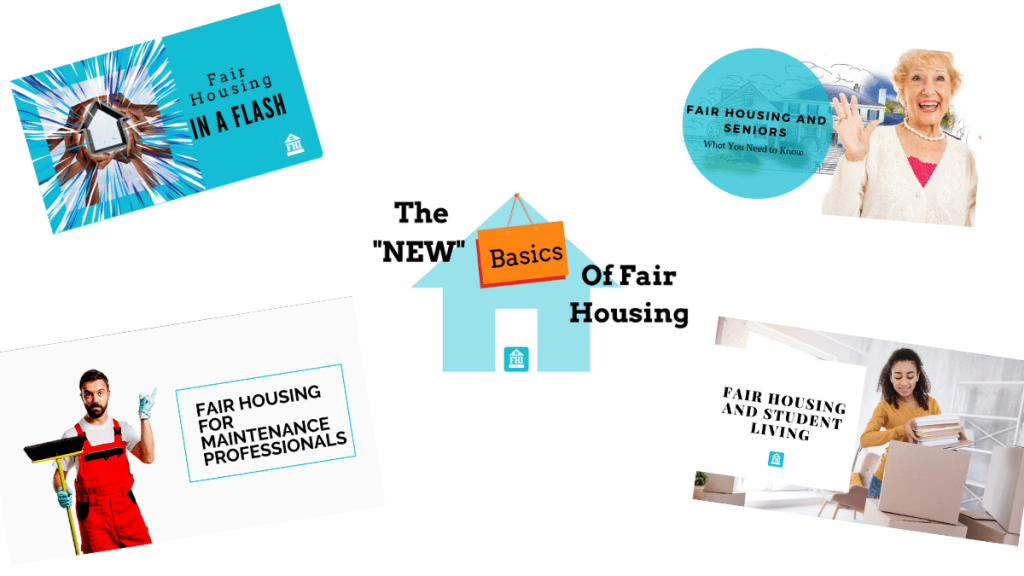 Fair Housing Training For Property Management
Fair housing training is at the core of operations, risk mitigation, and professional development for every housing industry professional and company.
We have developed innovative, cost-effective training suites to educate our valued clients on how to protect their property, company, residents, and even their career. These courses are available for our Single User and Company Accounts.
Many of our courses are offered in English and Spanish and all of our training is on-demand. This means you can take the training at your convenience. From home or work, from your desktop or smartphone, our training is available to you and your employees 24/7.
You can always save your progress and pick up from where you left off because we believe training should fit your schedule. All courses come with certificates of completion.
Our courses are available to you and your company whether you want to train them on our LMS, or course hosting and licensing to train employees on your LMS. Scroll down to view our new training catalog suites: The Basics Series and Beyond The Basics Series!
The Basics Series Courses
Beyond the Basics Series Courses
---
Single User Account
A single user account will assign any courses ordered to one person. This is perfect for individuals who want to take initiative with their own training or get certified to advance their career prospects in the housing industry. You can sign up, pay, take your course, and get your certificate online today!
Company Account with Multiple Users
A company account allows an account manager the ability to order and assign courses to several users. The account manager can observe their employees' progress, monitor the completion of the assigned courses, and get access to the certificates for employees that have passed their certification exams.
When you are signing up for multiple courses, you could qualify for discounted pricing! Be sure to fill out the contact form for more information or to get a quote.
Course Hosting and Licensing
Do you prefer to train your employees on your existing LMS? No problem! We can provide you with the SCORM files you need to upload the course directly into your LMS. Since these accounts are customized for each client, please contact us directly to arrange for a no-obligation consultation about pricing and hosting details. Fill out the contact form for more information.