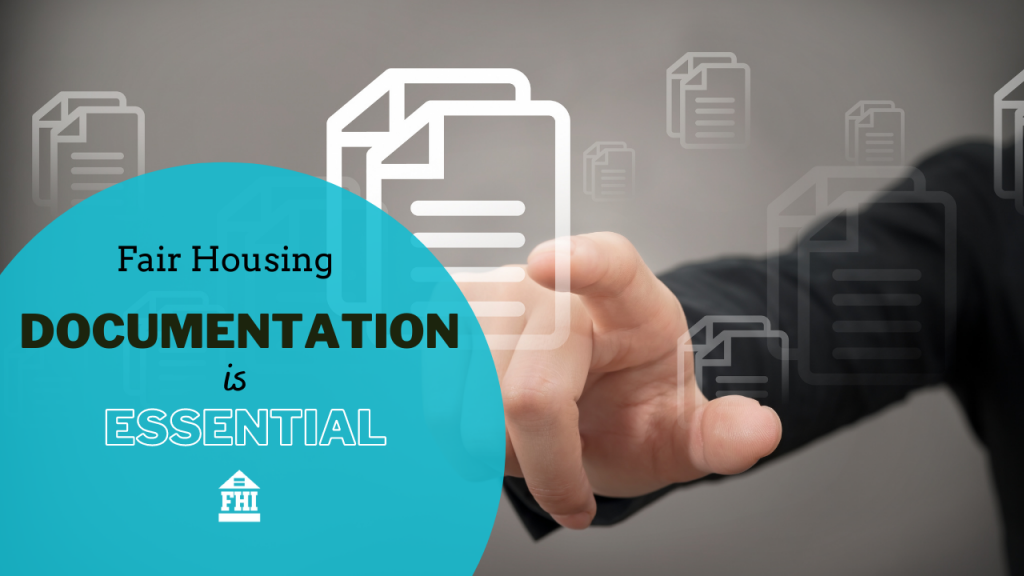 In this episode, we dive into documentation and why it's essential to being fair housing compliant. Be sure to check out the full episode and share it with your property management team.
Here are the scenarios we will be discussing in this episode:
A prospect comes into the leasing office to look at a two-bedroom unit that is no longer available
A resident has made a complaint in the past and is complaining again about strong odors coming from the next-door apartment.
Highlights of Episode 16 – Documentation is Essential.
Click here for the full "Documentation is Essential" episode transcript.
Documentation, Why It's Important
A prospect has questions about availability. A resident wants to know why their complaint hasn't been addressed. Even worse, a fair housing complaint has been lodged. Now what?
It is important to understand what kind of information to include in your documentation of a particular situation so that if necessary it will serve your interests at a future time.
Just like party invitations your documents need to contain who, where, when, and why. It is also useful to include any other staff person or resident who was present or has knowledge of the situation.
Join us as we discuss how proper and consistent documentation is essential to effectively handling these common scenarios.
Housing Availability
In your office, a prospect wants to view the two bedroom unit that a friend said was available only hours before. Unfortunately, this is no longer the case. Without the proper documentation, this situation can escalate quickly.
It is crucial that every person in your office is properly documenting their interactions with guests and residents and that apartment availability is always up to date. This way, you can quickly and clearly explain why the unit is no longer available.
Without it, you are open to a possible discrimination claim. If a fair housing complaint is filed, an audit of your documentation will show every interaction proving your compliance.
Recurring Tenant Complaint: New Management
Now let's consider how documentation is essential when dealing with both an ongoing complaint and a management change. A resident has just informed you that there is an odor coming from the adjacent apartment. The smell is causing health issues.
Along with this, you learn this is a second complaint. The first having been lodged over a month ago to a prior manager. You look in the resident's file and find nothing.
This situation highlights multiple problems. The takeaway from this is that every employee needs to document these interactions and add them to the resident's file. There also needs to be a regular audit of both the documentation as well as employee compliance.
This will ensure that if there is a change in staff, everyone is still fully informed. It sometimes seems like tedious bureaucracy, but I promise you it will save you a ton of time, money, and possibly your job.
Fair Housing Documentation Best Practices
Company Forms
Many companies use specific forms to document situations and complaints. Using these forms is often preferable over merely writing a narrative because often the forms prompt the employee to include all relevant and important information.
Just The Facts
Stick to the observable facts of a situation. For example, instead of stating "Ms. Smith is obviously not taking her medicine and had another paranoid episode, try to describe what Ms. Smith said and did during your conversation.
Action Documentation
There are many cases when the initial incident is documented, but there's no record of what was done because of the incident. Even if a telephone call to a resident results, that call should be documented. Obviously, the best evidence is a letter to the resident, which is its own document.
Document Storage
Another issue is where to keep such documents. Many companies keep an incident report in a resident's file. One problem is if the incident includes several residents. Who's file do you keep it in? The answer is a copy should be kept in all involved residents' files, as should the notations on the resulting actions.
Documentation Training
Proper and thorough documentation is a topic, on which nearly all companies should train. To review the performance of your office, we recommend that if you know of an incident that occurred during the past six months, go back and review the documentation that resulted. Analyze whether it was accurate, thorough, used the proper forms, and was retained in the proper files.
To summarize, make sure you document everything thoroughly! It's going to save you a whole lot of headaches and make your job a lot less challenging. Being able to communicate with the residents clearly will help avoid pitfalls that can lead to bigger problems.
You May Also Like: Fair Housing Policies and Procedures-Are You Covered?
Transcript – Documentation is Essential.
Jonathan Saar: Hello, everyone. Welcome to episode 16 of the Fair Housing Insiders. We thank you for being here today. Just remember to sign up for or subscribe to our channel, give us a thumbs up for this episode. We're very grateful for your continuing support of this complimentary fair housing education. And today it's another exciting episode not only because of the content we're going to share with you. We're going to be diving into documentation and why that is so, so important when it comes to fair housing but also to welcome Michael Coughlin vice-president of the Fair Housing Institute. So glad to have him on the show today and he's going to be on many, many more episodes for the calendar year. So Michael, welcome to the show.
Michael Coughlin: Jonathan, thanks so much for having me today. I'm really excited to be a part of this team and get this information, this really crucial information out to the housing industry.
Jonathan Saar: Yeah. Yeah. So, it's going to be a lot of fun sharing some nice tips with our audience today. So as I mentioned earlier, we're talking about documentation and why it is so essential no matter what's going on, on the property, document, document, document, very, very crucial. So we're going to take a look at a couple of scenarios and Michael and I are going to have a little discussion on them. He's going to share some feedback and some tips for our audience today. So our first scene that we're going to dive into is a prospect who comes into the leasing office and is looking for a two bedroom but is told that no two bedrooms are available. So let's look at our scene and we'll get Michael's feedback on what happened.
Speaker 3: Hi, I don't have an appointment but I'm hoping somebody could show me the two bedroom apartment you have available.
Speaker 4: I would be happy to show you our one or three bedroom apartments but unfortunately we have no two bedroom apartments available at the moment.
Speaker 3: Really? My work colleague was in here earlier on his lunch break and looked at an apartment and he said you had a two bedroom available. You mean, I came all the way over here for nothing?
Michael Coughlin: Oh man Jonathan, I cannot tell you how many times I have seen this. Availability for your units is a really big area of concern when it comes to documentation. In this scenario, somebody comes in and they're looking for a two bedroom obviously like you saw. And they were told there wasn't one but they told somebody earlier in the day that there was so which is it? Well, the problem without documentation is we don't know. Did they discriminate and it turns out that they just didn't want to offer that second person the two bedroom? Was it really actually leased and now it's not available? But without that documentation we don't know and guess what? A fair housing complaint is on its way. And unfortunately, without that documentation you don't have a proper defense against it.
Michael Coughlin: It is crucial that every single person in your office is properly documenting their interactions with guests and residents and that that apartment availability is always up to date and everybody on your staff knows exactly what is available, when it's available and when it was leased and that anybody can come in and audit the process and look through and see that day-by-day, hour-by-hour. That way, even if a fair housing complaint is filed, people will know the truth that you did not discriminate, that this is just a matter of the fact that it was leased before the second person came.
Jonathan Saar: Yeah. Yeah. I like how you highlighted the communication aspect of the process. So it's very, very busy on-site and things can get hectic real quick but documentation in this scenario that we're talking about is absolute must and being able to communicate that amongst your staff and your team that's very, very important. Yeah. Nice reminder, nice tip Michael on what needs to be done to make sure that how nice it would be to, "Yeah it was available but this happened. We just had someone come in. So sorry you missed it but we do have this available." So if everybody's on the same page then it makes it less awkward and you still may be able to rent something else out to that potential prospect. So nice tips, excellent feedback.
Jonathan Saar: Okay so our second scene. So in this scenario, a resident has made a complaint in the past, is coming in and is complaining again about strong odors, strong smells coming from the next door apartment. So let's take a look at the scene and we'll get your take and your feedback on this scenario Michael.
Speaker 5: Is there anything you can do about the smell that's coming from apartment 4A? I called last month about it and talked to the old manager. She said she would look into it but I never heard back. My allergies are out of control because that smell is so strong.
Speaker 6: Oh, I am so sorry about that but I looked through your file and I don't see any record that you called about this issue.
Michael Coughlin: All right. So we have a few problems here. First of all, this resident is coming in and obviously they're complaining about a smell, it's affecting them in a certain way. So we're bordering on the fact that they could have been asking for a reasonable accommodation the first time and it just doesn't really fleshed out. And we're not going to get into that today but that just causes a whole load of problems the fact that they may have asked for that, you didn't really acknowledge it and obviously we're dealing with it because nobody wrote it down.
Michael Coughlin: Now, we have a new manager in this scenario and the original complaint was with the previous manager. A lot of people don't talk about this but one of the biggest problems with documentation is it's not recognized until after an employee left. So, they did all this work and you're trying to figure out who they told what so you go back through your files and you realize, "Oh my Lord, they are missing so much documentation, there's nothing there." How do we pick up where we left off?
Michael Coughlin: So, what to take away from this is not only obviously like we said throughout the episode is you need to document these scenarios, these interactions with residents when they complain. Anything significant, it needs to be in their file. But there needs to be a regular audit process throughout the office of the documentation. Go through these files, make sure that all of these guests and resident interactions are there and that every employee is keeping them up-to-date and properly filed because if they're not they're useless. Then it becomes a he said, she said. When did the resident file the complaint? Did they file a complaint? Who was it given to? You don't know if it's not written down. It seems sometimes like tedious bureaucracy but I promise you it will save you a ton of time, a ton of money and maybe even your job.
Jonathan Saar: Right. Right. Excellent tips, excellent feedback Michael and to piggyback off a couple of things that you mentioned it happens in the industry all the time, portfolios change, management companies take over a property, they're bought out or it's a different fee managed company that's taking over the property. And so that transfer of documentation is so essential and like you mentioned, good auditing, making sure that that's always up-to-date. Because if you don't have documentation and there becomes some sort of allegation of fair housing violation well the property management company is going to be spending a whole bunch of money [crosstalk 00:08:11].
Michael Coughlin: Real quick.
Jonathan Saar: Yeah. Yeah. And you just want to avoid that. So that's great tips. Yeah thank you so much Michael, great feedback. So, that's really important. That's our tip for this particular episode, make sure you document everything. It's going to save you a whole lot of headaches and make your job a lot less challenging and being able to clearly communicate with the residents what's going on, being able to have that tracked well.
Jonathan Saar: So thank you everyone for being here for today's episode, this has been episode 16 focusing on why documentation is so necessary. Be sure to stay to the end. There's another video that relates to all kinds of fair housing topics and other content that is available for you. Be sure to subscribe to our channel, give us a thumbs up, hit that bell so that you're notified when new episodes become available. Be sure to check out our courses online fairhousinginstitute.com. We want to thank you for being here and we'll see you on our next show. Take care, everyone.