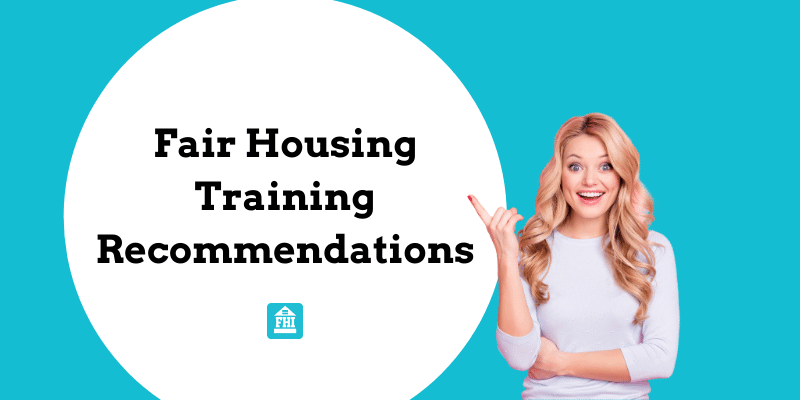 Do you need a Fair Housing training program? Are you an owner, manager, HR director, or training director in property management? If so, in our answers to the questions below, we share our recommendations for successful fair housing training programs and policies to protect your business, your employees, and your bottom line.
1. How often do employees need to be trained?
Answer: Some types of training should occur annually, especially for leasing employees. New hires should take fair housing training within the first 30 days of employment. Employees need comprehensive certification training at least every two to three years, refresher, or topic-specific training in between.
2. Which courses should my employees be taking
Answer:
The Basics of Fair Housing Certification Course is a comprehensive, updated education and is recommended for owners, regional supervisors, policy creators, managers, leasing employees, service coordinators, and anyone else who regularly meets with residents and prospects.
Fair Housing in a Flash is a review course that can be used as refresher training between the year's employees to take the Basics Course or three to four hours of live training. This course is also good education for other types of housing provider employees who need a fundamental understanding of fair housing requirements.
Fair Housing for Maintenance Professionals is specifically designed for the front-line employees performing services and interacting with residents every day. It is also worthwhile for vendors contractors and other third parties who perform services on site.
Fair Housing and Seniors covers the unique fair housing challenges of managing senior housing. This course is intended for all non-maintenance employees to be taken along with or during the years between the Basics and Flash courses.
Fair Housing and Student Living is a supplemental training course covering the unique fair housing challenges of student housing. It is intended to be taken along with or during the years between the Basics and Flash courses by all non-maintenance employees.
3. What types of training should be included in an ongoing training program?
Answer: To protect your company and your employees, fair housing training must be effective and be provided on a regular basis to all employees. Mere reminders to be consistent are no longer adequate to answer fair housing questions because the laws are becoming ever more complex. A fair housing training policy should cover the basics, and beyond the basics for both new and seasoned employees in your organization. Here are the various types of fair housing training to consider:
Online training is the easiest way to train employees while also being cost-effective. This is the best method of providing immediate training for new hires, while also providing refresher training to employees each year.
Webinar or virtual training has become more common during the age of social distancing. The training combines the benefit of allowing employees to train from anywhere, with the opportunity for employees to ask the trainer questions. This is an excellent method for specific tropic training for employees or training concentrated on supervisors or policymakers. The length of this training should be limited to 90 minutes. We encourage this method to be used as an alternative to live training and as a supplement to online training.  
Live training requires the logistics necessary to gather employees into one room while permitting more interaction between the trainer and employees. This time together can also be valuable because it permits supervisors to directly communicate with their employees and permitting employees from around the company to network with each other. Live training is an engaging method of training, but maybe cost-prohibitive for smaller groups. We suggest adding live training into your training program every three to five years.