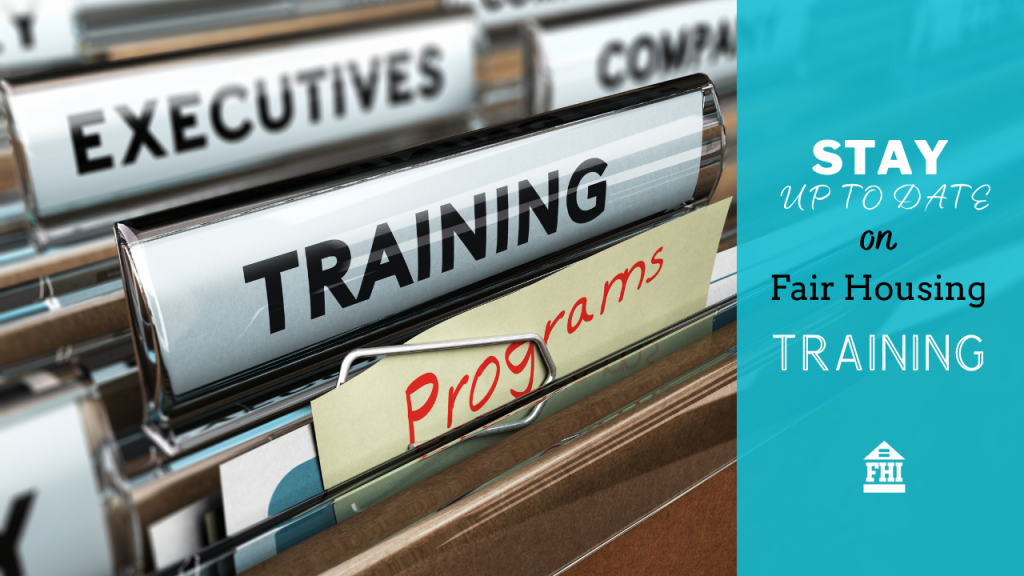 Fair Housing is a complicated and ever-changing subsection of the law. Because of this and the differences between federal, state, and local laws, it is critically important that every employee in the housing industry receives regular and up- to date training so they follow the law and take every fair housing matter seriously.
Here are the scenarios we will be discussing in this episode:
Manager questions a leasing agent after overhearing a conversation with a prospective tenant that included inappropriate information. But the agent is unclear as to what he did wrong.
The leasing agent comes to the manager about new state law regarding emotional support animals. The manager simply sends the employee a short video to watch.
Highlights of Episode 17 – Stay up to Date on Fair Housing Training.
Click here for the full "Stay Up To Date On Fair Housing Training." episode transcript.
Fair housing training- How often?
You have just heard one of your staff make a critical error that could lead to a fair housing complaint. When you approach your employee, he has no idea where he went wrong. How could this be avoided?
Simply put, regular fair housing training is essential to avoid situations like this. The keyword here is regular. One time training will never be enough. It is best to have an ongoing and up-to-date training program or plan.
The current industry minimum is every two years. However, we are now seeing companies switching to annual certification programs, which is an even better practice.
Reliable resources
Fair housing laws change over time, be it on a federal, state, or local level. Best practices would include more than a quick video that glosses over the changes. You need to have a catalog of reliable resources.
YouTube videos and webinars can be great resources. Just be sure that they offer up to date and detailed training on the specific topics you are looking for.
Another thing to keep in mind is to offer a variety of training resources. A great tip is to have your staff role play. This type of diverse training will reach every style of learner.
By ensuring that all your staff has access to up-to-date reliable training, you can avoid time-consuming and costly mistakes.
You May Also Like: Answer Your Telephone With Care – Comply With Fair Housing
Transcript – Stay Up To Date On Fair Housing Training.
Jonathan Saar: Hello everyone and welcome to episode 17 of the Fair Housing Insiders. Today's topic is going to be on fair housing training and how serious do we take it and the importance behind it. So glad that you're with us here today. Don't forget, if you haven't already, please subscribe to our channel and hit that little bell at the bottom so that you're notified of any new episodes that come out. We have a full slate of educational topics scheduled for the year 2021. And please remember to give us a thumbs up if you appreciate this complimentary fair housing education episode. So again, welcome Michael, looking forward to diving into this topic. How are you doing today?
Michael Coughlin: Fantastic, Jonathan. I'm really excited. If it wasn't obvious, fair housing training happens to be a passion of mine. So I'm really looking forward to this.
Jonathan Saar: Yes, I know it is. So I know you deal with a lot of property management companies on a daily basis, helping them get set up with their fair housing training. So a good topic, some good tips that we're going to dive into and share with our audience on just how we have to make it so important and some things really to think about to avoid and make sure we don't fall into perhaps bad fair housing training habits. So we have a couple of scenes that we're going to share with our audience. The first one is the manager overhearing a leasing professional, and that leasing professional says something crazy that is clearly a fair housing violation. Let's look at the scene and then we'll get your take on it Michael.
Alex: Chris, did I just overhear you correctly on the phone just now? I thought I heard you tell someone on the phone that we have lots of teenagers in building 100.
Chris: Yes, that's right. The prospect has teenagers and wanted to know if we had any teenagers that live here. So I told them that building 100 has a bunch of teenagers and we have a few units available in that building.
Alex: Chris, I appreciate how friendly you are and how much you want to help. But what you just said is a major fair housing violation.
Chris: It is? I'm so sorry. I didn't realize. It's been about two years since I took that fair housing course so I have no idea why that was wrong.
Michael Coughlin: Well, unfortunately this is something we come across a lot in the industry. Hopefully if you are watching this video, if you're here with us today, you know that fair housing training is important. What we also want to convey is that one course or one training, it doesn't matter how great it was, that over your career does not cut it. Obviously, we see a lot of people that come to us because they've never had fair housing training, but we also have this problemt with people that think like, hey, I took a fair housing training course, I'm good for the next 20 years. And there's so many reasons that that is just wrong. Obviously for housing laws and interpretations and the environment changes, year to year even. And also the information needs to stay fresh in their minds.
Michael Coughlin: They need to understand the importance of it again and again. Let's be honest, a lot of us have worked different jobs, and that training video that you watch the first day, well, maybe a couple of years later wasn't as fresh in your mind and you weren't taking it seriously. That's why it's so important that you regularly train. Everybody in the housing industry needs regular fair housing training. At the moment, the industry minimum is really to have kind of thorough fair housing training every two years at least, and truthfully a lot of organizations and especially the bigger companies are moving to annual certification training. Trust me, if you get into a fair housing complaint, an investigation is launched and it turns out that all your employees were trained seven years ago, or you just trained them once and never again, it's going to be a red flag. So make sure to keep that regular training schedule going, develop a program and have a plan.
Jonathan Saar: Right. Yeah. Excellent, excellent points, Michael, and tips. And it really lends itself to just, I don't care what kind of training model you look at, from my perspective it's retention and how much do you retain and how much are you able to bring out when you need it? And so that's another critical reason why fair housing training is so important. You deal with it every single day, all day, and yet you still pay attention to what's going on in the news and pay attention to what HUD is doing federal and state. Kathy, the same thing, is constantly versing herself in education to make sure that she's up to date. So it's not like fair housing violations occur every single day or scenarios, but to me it's like fire drills almost. So large buildings, companies always have regular fire drills to make sure they know what to do, where to go.
Jonathan Saar: So fair housing training is very similar. And so like in this scene, yeah, waiting a couple of years didn't do this particular apartment professional very much good. So yeah, very, very good tips. Which kind of leads us into our second scenario. The scene is about, the team has become aware of a new state law that impacts fair housing and in this case emotional support animals. So let's take a look at the scene and see how the manager reacts to that information. And we'll get your takeaways on it Michael.
Chris: Hey Alex, I just read in the paper that there was a new state law that just went into effect regarding emotional support animals. Now is that something I should be worried about when it comes to new leases?
Alex: Yes, but don't worry about it, Chris. I have a three minute YouTube video that explains it. I'll send it to you. Watch it and let me know if you have any questions.
Michael Coughlin: All right. Well, here again we have a manager that's just trying to check the box. They have their little fair housing video that they give all their employees and they're just saying, oh just look over it again. That'll be fine. And just, the cold hard fact is that it's not. Training needs to have some diversity to it. You really need to have kind of a catalog of resources to go to. First of all, obviously if you're taking these little 15 minute fair housing videos, if it's just one, then I got to be honest, that just doesn't cut it.
Jonathan Saar: No.
Michael Coughlin: You need multiple hours of fair housing training over the course of a couple of years at least. Not to mention, as we stated earlier in this video, fair housing laws change over time, and you're going to need updates to that. And a lot of times you're probably not going to find those updates in your standard run of the mill fair housing training videos.
Michael Coughlin: It's great to be looking at different ways to train your employees. For instance, these YouTube videos obviously are a resource that you could use on different topics. Also, I love webinars for detailed, specific training that can cover your type of housing, your state and local protected categories and problem areas that your team is facing. So don't just look to a one size fits all training session. You need to again, have that catalog, have that plan. If you want to use the training videos or the online programs for every two years or every year, that's great, but then throw in some YouTube videos or some other training sources and throw in some webinars. When you start to see your employees having problems, make sure to get on top of it and get ahead of it. Otherwise, unfortunately, you know what's going to happen. A fair housing complaint is right around the corner.
Jonathan Saar: Yeah. Excellent points. I resonated with what you just mentioned about when you start seeing problems. Don't wait until that annual course is coming up or just a few months down the road, but that should be part of the training department's focus. And we know sometimes training directors wear many hats but leadership needs to understand. I mean, out of all of the issues that face property management companies, this is the number one, this is the biggest one. This is the one that will cost you the most money if you don't pay attention to what your employees need for education. So I love it Michael. Great reminders of different options that are available. I'd throw in role playing, like why not create these scenes? Use these scenes, like you mentioned, use our YouTube videos. Why not use them? Do these scenes happen?
Jonathan Saar: Has it happened to your team? Have them relive it. That way it's going to be retained much better. So that's the general idea is just keep providing training, provide different types of training because we have different types of learners. Some may retain webinars really well and some may not. Some may retain in-person training and some may not as much. So you've got such a variety. You have to provide that variety.
Jonathan Saar: So thank you so much. Excellent tips and feedback for our episode today, episode 17 and some reminders about fair housing training. And speaking of training, of course you know you can always go to our website, fairhousinginstitute.com and go to our course section, you'll see a full set of courses that are available now and more to be produced for this coming calendar year.
Jonathan Saar: Some announcements will be coming out about that in the very, very near future. So thank you again, everyone for being here. Michael, thank you again for your insights and sharing with us what you see. You're in the trenches. You're out there every single day seeing what properties are facing and what gaps they need to close. So we're grateful for you again being as a co-host today. So we look forward to seeing everyone on our next episode. Again, please give us a thumbs up if you've enjoyed this show. Check out some of our other videos that are available to you, and we'll see you next time on the Fair Housing Insiders. Take care, everyone.