If you have filled out our contact form, someone will be in touch with you very soon.  In the meantime, please review a list of frequently asked questions.
You will find further information on the following topics :
Single User Account
Click this link to register. Fair Housing Institute LMS
This is a super simple form for you to fill out.  Provide all necessary credentials.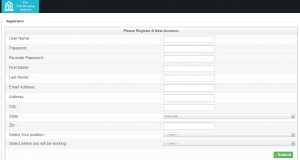 Fill out your info and click submit.
Look in your email inbox for a confirmation. Be sure to check your SPAM just in case.
This email will provide you with your login credentials and the next steps to purchase your course.
Property Account Multi-User
Are there any multi-user discounts available?
Yes, there are! If you filled out a contact form, someone will be in touch with you very soon. If you have not filled out our contact form yet, please include how many certificates you require and we will send you back a quote.
How do I submit payment?
An invoice will be sent to you where you can pay online via PayPal or credit card. If you need to pay by check, simply make arrangements with us to do that. Once we receive payment your employees will be set up for their training.
How do I set my team up? Do they each receive their own login credentials?
Great questions. Below you will see an attachment. It contains a spreadsheet template with the information we need to set up your team. Once we receive that and payment arrangements have been made, we will load your team into our learning management system, and each of your team members will receive an email with their unique login credentials.
Click to download —>  User Spreadsheet Template
Do I have to create usernames and passwords for my team members?
You can if you wish but that is not necessary. The most important information we need is your employees' names and email addresses. Fill out the spreadsheet with that information and please send it to us.
What if my employees do not have a company email account?
An employee can use their personal email account but that is up to you as the account administrator. You can use your email address if you wish. In that scenario, you would be responsible for providing your employees with their login credentials.
Can my team members print a certificate of completion?
Yes, they can. Each team member has access to their transcript which has their certificate of completion. The click on the certificate and then they can either print or save the certificate.
Can I monitor my team's progress? Can I see when they have completed their course?
Yes and yes! If you have been designated as the account administrator you will have access to all of your team members. You can monitor their progress and see their completion status.

Corporate Account
What is a corporate account?
For us, a corporate account is when you have multiple properties that need Fair Housing training. You will have the option to use our learning management system or using yours.
We have our own LMS. How can we use your course in our system?
Once terms have been agreed upon, we will send you a zip file of the SCORM course(s). Your LMS administrator can upload the course and enroll your team.
What do terms look like for a subscription?
We will provide a one-year subscription agreement. After the financial terms have been met, we will send you over the files necessary and you can enroll your team.
Can I preview the course prior to agreeing to terms?
Yes, you can. Just let us know and we will set you up for a 7 day trial of our courses.