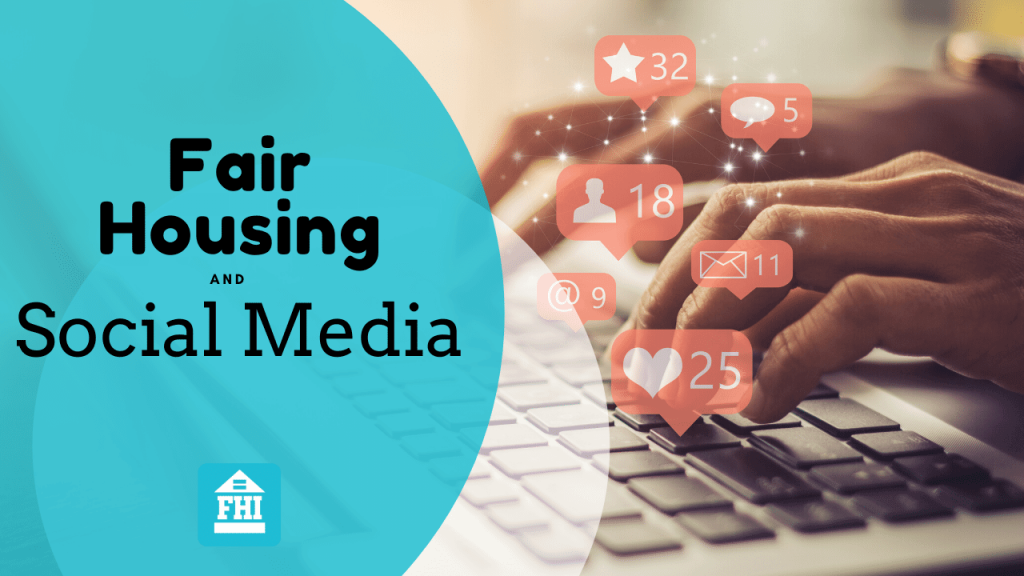 Fair Housing compliance and social media can co-exist. In this episode we highlight many of the challenges that property management professionals have when it comes to their social media content and compliance with Fair Housing.
Take a moment and please subscribe to our YouTube Channel
Highlights of Episode 7 – Fair Housing Compliance and Social Media
Click here for the full Fair Housing Compliance and Social Media episode transcript.
Consistent Use of Social Media and Fair Housing Compliance
Does consistent use of media to cover all aspects of the Fair Housing Act, protect a property management company?
The goal with social media marketing and Fair Housing is to be diverse and not just removing all people from your property management marketing and advertising. There is no need to go to extremes in your marketing.
Diverse marketing takes content planning. When you can strategically plan out your content over a span of time to demonstrate diversity you can set yourself up for marketing success. This takes solid communication from corporate down to the site teams.
If the site teams are responsible for posting content to their social channels, then they need to know what that is. If there is no content plan, then typically what happens is the traditional default of showing a picture of the pool, the gardens, and/or the front entrance sign.
How Does Fair Housing Apply To Design In Marketing Ads?
This is an ever evolving topic based on what options are available on digital ad platforms. Google and Facebook have been under scrutiny for the options that are available to marketers. In a traditional targeting environment items like location, familial status, sex, and other categories are important based upon the target audience.
If you are selling baby diapers you want to be able to find that market segment that would be interested in your ad. Obviously this is fair housing red flag for all of us in the property management sector. Digital ad platforms such as Google and Facebook, have conformed their targeting criteria for advertisers operating in the housing sector.
The bottom line is that it is our responsibility to be in compliance with Fair Housing no matter where we are advertising. We know the law better than any digital tool that is out there. We just have to do our part.
Social Media Marketing and Housing Sectors
Student Housing
Let's talk about social media marketing and advertising in Student Housing. There's a general view that when you share living spaces, such as roommates, that there is some flexibility, especially about gender. So if you're going to rent a bedroom in your house, normally, you absolutely could not advertise, for rent room for a female. That, under most circumstances, would be illegal unless you have a shared living environment.
So there is more flexibility when it comes to shared living spaces. If you are not sure then it is always good to consult your attorney.
Senior Housing
Another segment in housing is senior housing. They are also often referred to as retirement living, senior properties, and probably the most common is called 55 and older properties.
In senior communities, you can have statements in your advertisement, restricting children, in any way they choose to. So that would be a huge exception that you also see quite a bit when you're out and about looking at housing advertisements.
How Can We Make Sure Our Social Media Posts are Fair Housing Compliant?
There is a tremendous opportunity for property management companies to showcase what is the true heart of the community. Often you can get overly invested in trying to showcase your amenities because that is what you want to advertise and create awareness of. And you may think that using this kind of content in your social media posts keeps you Fair Housing safe.
That is one potential approach. But is that the true heart of your community? Why not showcase your team? They are the face of your community. They are the ones that residents see everyday. They are the ones you want prospects to get to know.
This is but just one example of many that highlight how with some creativity you can develop social media content that is Fair Housing compliant.
What Should I Do About Resident Posts that are Defamatory or Discriminatory?
This is a common concern among property management professionals. It was just a few years ago that the approach was to ban all comments and tagging features associated with social media channels.
In the age of transparency many are reversing that course. With that reverse comes the responsibility of engaging with your audience on this digital platforms. This is where you can set the Fair Housing tone.
By how quickly you respond to defamatory or discriminatory comments, you are sending a message. Be making clear public transparent statements about how your company views that type of rhetoric, you are sending a message.
You need to have policies in place to address these issues, and you need to have people assigned to monitor your social channels so responses and next actions can be swift.
If you or your team are in need of training be sure to check out our Fair Housing online course information.
Fair Housing Compliance and Social Media – episode transcript
Jonathan Saar: Hello everyone, and welcome to episode seven of the Fair Housing Insiders. Today's episode is going to focus on Fair Housing and Social Media. We try to put both topics, marketing, advertising and/or social media into episode six, but there was so much content, we decided to split them into two. So we look forward to a hybrid of the conversation, a little bit of a crossover from episode six. But we're confident you're going to enjoy all of the feedback and comments that Kathi and I had in this particular episode.
Jonathan Saar: So just as a reminder that this show is to specifically address some Fair Housing questions that have come up. And we look forward to your participation on the show and your feedback. Remember, our comments, our recommendations. And they are not legal advice. It is always good to confer with legal counsel. So thanks for being here today, and let's get into our show.
Jonathan Saar: So let's talk about Facebook for a minute, that particular case, and build that into the, overall, what we're seeing out there. I have a few thoughts. I review property management, social media channels daily. They're in my feed on Instagram, on Facebook, on Twitter. Over 10 years ago, I made this statement and I'm still making the statement today. Your pool is beautiful. There's no doubt about it. There's no doubt about it.
Kathi Williams: It's a great pool.
Jonathan Saar: It's a great pool. It's a great view. Here we are right now, Kathi, with, in the current climate, even more limited opportunities for in-person interactions with our communities. The in-person tour right now is more challenging. Virtual tours are really really taking off. They have been in place for some time, more property management companies are jumping on board. So this is the time, even in this conversation, property management companies are looking at more ways to showcase their communities on a virtual level.
Jonathan Saar: So, when we think about what the Facebook case is, and then what you and I were chatting about when we were preparing for this show, we've used the word balance a couple of times. So if a property management company is very consistent in their use of different situations, people from different ethnic backgrounds, people from different familial statuses, in their artwork that they use, and consistently have that approach that no matter what they're doing with their media, that they are being inclusive of all of these protected categories.
Jonathan Saar: Does that not provide for them a solid basis that their advertising, their marketing, is in line with the Fair Housing Act? That was a very long question. So what are your thoughts?
Kathi Williams: I think you're very long question, Jonathan, deserves a very long answer, which I am very capable on providing those rurally long answers. I would say that I like to take this back to where it started with Fair Housing concerns and as with many issues, the pendulum swings too far. And so what started out as the concept of, let's not have pictures in your leasing offices, let's not have pictures on your websites, let's not have pictures in your brochures that only show white people, and only show people doing active things like swimming and running and playing tennis. And that's the only pictures you have. That would be what we would say is very unbalanced in marketing to a diverse community.
Kathi Williams: So that's where the concern started. Because, that was very common. That was more often than not. And I'll give you an example. And this was many years ago. I walked into one of my client's leasing offices, and they prided themselves on being a very active community. They had all kinds of social activities and outings and had their residents to the clubhouse all the time. And they were very proud of that they did a great job.
Kathi Williams: And so they took pictures. And then they hung them in the office, all around the office in the walls. So that when people came in the office, they could see themselves, or they could see that if they lived here, they would be part of this very fun, social, active community. And they spent a lot of money framing those pictures. And I walked in, looked around and thought to myself, this would be a fun place to live, but everyone that lives here is white. And it seems to me like they're advertising to white people. And that is the concern.
Kathi Williams: So if that's the concern, how do we get to a more balanced approach? Well, if all your residents are white, for whatever reason, and I'm not... We aren't assuming that if that's the case, that's because of discrimination. Sometimes, that's just because of a lot of reasons that are not illegal. If that's the case, you cannot just show pictures of your residents. You're going to have to hire some models to go be in an apartment, or out on the picnic grounds, and take pictures of them and put that up there too.
Kathi Williams: On your brochures, you're going to have to make sure that you get pictures of residents of several races and nationalities. And that some of your pictures are of residents or, again, models that are disabled. And it doesn't have to be an every single picture. That would be overwhelming, obviously. But let's take a view of marketing activities again in every area, and let's look at them over a six-month or a year period. And let's just make sure that in that timeframe, we've got a diverse community that we are suggesting will want to live here, in this property.
Kathi Williams: And that's the goal. It doesn't have to be an extreme so that you don't show any residents, if you can't show one of everybody, a black person, a white person, an Asian person, a Hispanic person, a person in a wheelchair, children, old people. You don't have to get all of those folks in every picture, but why can't you have some pictures with all those folks in over a six-month or a year period of time?
Kathi Williams: If you can accomplish that, then you are doing diverse marketing. And that should be the goal. Not to take out people from your marketing. I think a lot of people reacted to those old cases about only showing white people, by taking all people out of their marketing activities. Again, that's an extreme. You really don't have to do that to still comply with the law.
Jonathan Saar: Right. That's awesome. So, take that. Let's pause, let that sink in for everyone listening and watching the show today. There's so many ways that we can organize things and you touched on so many different things, Kathi, that I looked at. As the marketing guy, what are some fundamentals that I have taught people to keep themselves just organized about their content marketing?
Jonathan Saar: So there's no reason why everything that you just said cannot be put into some sort of organized format within your content project plan. That, if it's a column, if it's a checklist, however you work with your team to develop your content, that inclusiveness, as you've so eloquently put it for us, should be part of that process. And make it easier for your site team.
Jonathan Saar: So, property management companies all have a different approach on who handles marketing for them. Sometimes it is the site team that is responsible for their Facebook page or their Instagram account, but the marketing department still has that obligation to create that legal folder, I don't know if that's the right expression or not, but don't make it so difficult on your site teams that they are just... Well, we're going to default to the pool again. So we have to put an Instagram post out today because corporate says it's Friday and it's time to put an Instagram post out.
Jonathan Saar: Well, I don't want to get in trouble with Fair Housing, so look at the beautiful sign in front of the property. And so that's what happens, is like they just go into this default mode. So it's really important from a marketing department standpoint to think forward, have that content plan in an organized fashion, so that when it comes to your social media content program, that you are regularly changing things up when it comes to your overall social media.
Jonathan Saar: So let's just just swing back for a second. We've mentioned the Facebook case a couple of times. And when we were talking and preparing for the show, there was a couple of items that came up in that conversation. And again, this is, I think in the context of this, it's one of those items that we watch what Fair Housing testers, what fair organizations, what they seem to be paying attention to. This puts an intriguing responsibility on the marketing department from the perspective of, when they're making their ads, what are they targeting within those ads.
Jonathan Saar: So, what was your take, Kathi? Let's just take a couple of minutes and dive into that. When you saw that Facebook case come up about a year ago, what were the red flags? What were your first thoughts? Any comments specifically about what the marketing departments in property management needs to think about?
Kathi Williams: Well, for anyone that's not very familiar with it, what happened last year was HUD had been investigating Facebook for what we've gotten pretty well to understand is Facebook's practices of data mining. So Facebook pulls together all of our likes and dislikes when we're on Facebook, and keeps records of all that, and pulls that together in algorithms.
Kathi Williams: And that term has gotten to be popular in a number of Fair Housing cases. And with Facebook, it's about target marketing. And target marketing is when you select the group of people that you want your advertisements to get to. Now, if that determination is based on protected categories, that would be illegal target marketing. So if you are trying to market something, and yet to Christians, and Christians predominantly, that would be illegal advertising. Because of the target market you're going to is a protected category.
Kathi Williams: So if you're trying to get to smokers versus non-smokers, that's not illegal. Because that's not a protected category. If you're trying to get to people based on their race, obviously it is. But see, that extends a little farther than that, which also involve the Facebook algorithms, because sometimes zip codes can determine race. Because in some areas, we know that there are communities that are somewhat segregated by zip codes.
Kathi Williams: So if we only advertise to this zip code, we're only advertising to white people, or Hispanic people, or any of the other protected categories. That would technically violate the Fair Housing Act. And that is what HUD is concern and why it charged Facebook. Because Facebook wouldn't agree to turn over its data, to see how it decides all of this targeting data mining. So HUD couldn't decide whether Facebook was going to stop doing illegal target marketing for its customers. And that's why they charged them.
Kathi Williams: Now, we haven't heard anything about that case. We don't know what's happening. That case could easily settle tomorrow for all we know. I kind of doubt that it'll end up in court, but we'll have to see whether that happens or not. And if it settles, we will never know the outcome, probably. We will not know exactly what Facebook has agreed to do. But I think we can count, if it settles, on the fact that property management companies that continue to use Facebook to market, hopefully, can count on the fact that they aren't going to automatically get themselves in trouble by doing that.
Kathi Williams: Whereas, right now, not only Facebook could be held accountable for target marketing, but so could its customers that use its algorithms to accomplish that target marketing.
Jonathan Saar: Right. It's interesting. It's one of those cases that, like you said, we need to really pay attention to, and to watch. And from the time that Facebook case came out, and even till today, Facebook, Google, any of those advertising type, pay-per-click campaigns, or anything along that line... I'm losing my thought for a second. Sorry about that. But they have made those changes. It was always a red flag to be when I first kind of review. Like, what's available if I wanted to put together an ad campaign.
Jonathan Saar: For many items, it makes sense. Of course, you want to be able to target certain things when you are advertising retail products, vacation destinations. And the list is on and on. Advertising is just the way things work. So, it's always been interesting to me. It's like, well, how does Facebook, Google any of these other platforms, how do they accommodate for the Fair Housing Act? And how do property management companies have to put themselves in that position that when they are making those campaigns, that they are not targeting certain groups of people that would be considered a violation of the Fair Housing Act?
Jonathan Saar: Because to your point, right now, there may not be a whole lot of conversation out there about it. However, all those items are records. This is not a fearful thing, it's just a... It's a cultural thing when it comes to the Fair Housing Act. Whether it's our posters, whether it's our social media and whether it's behind-the-scenes, when we're making these ads, we want to make sure that we're in compliance with the Fair Housing Act.
Jonathan Saar: And really, I love the overall balance of just how, as a company, everyone needs to embrace that and look for those opportunities to really showcase the spirit of your property management company and the spirit behind your community. And with some creativity, that all inclusive approach can really bolster that overall image. Great feedback, Kathi.
Jonathan Saar: So I think the last item that has come up in conversation, we switch over to various housing markets. So with certain words and phrases, can you just touch on, for example, student housing. Is there a little bit of a difference for those who are in the student housing sector for certain words or phrases that they can or cannot use? What are your thoughts
Kathi Williams: There are. I can't say we know how extensive this is, but there's a general view. And this is always been around. It's not part of the law, but there's a general view that when you share living spaces, such as roommates, that there are some flexibilities, especially about gender. So if you're going to rent a bedroom in your house, normally, you absolutely could not advertise, for rent room for a female.
Kathi Williams: That, under most circumstances, would be illegal unless you have a shared living environment. And if you do, then you can discriminate, if you will, in the way you market based on gender. What is, I think, not quite as clear, is whether that also would include gender identity, sexual orientation, in those areas where that is a protected category. I can't say I'd be comfortable either way, but I think there is much more of a flexibility with shared living spaces.
Kathi Williams: So that's one area where advertising and the requirements might be a little different. The second very large area is with housing for older persons. Which is what it's called, under the Fair Housing Act and what we think of, is retirement living, senior properties, and the probably the most common is called 55 and older properties.
Kathi Williams: And in those communities, they absolutely can have statements in their advertisement, restricting children, in any way they choose to. So that would be a huge exception that you also see quite a bit when you're out and about looking at housing advertisements.
Jonathan Saar: Very good. Okay, good. So just a lot of context. What an amazing show, Kathi? I'm looking through some of my notes here, thinking of a lot of the things that you said, so, so, so many takeaways. Here are my takeaways. And I'd like to get a couple of your key takeaways before we close it out. So for me, it's the marketing department, the legal department, you got to come together and make it easier.
Jonathan Saar: I think one of the other pain points I hear from some clients is how long it takes anything to get approved. What can be done to shorten that cycle, have better communication, make it easier for your marketing department and make it easier for your onsite teams who are involved in your social media program to really help showcase the community, and not be so afraid of what they can't show? So increase the communication, look for that resource.
Jonathan Saar: Everyone, we're going to share that with you, of have some words and phrases to think about what you can and cannot use. That'll be in the show notes. And and really just have an organized content plan so that you are demonstrating how inclusive you are of all of the protected federal and state classes. Kathi, what are your takeaways
Kathi Williams: Actually, Jonathan, I think we need to talk about one more topic.
Jonathan Saar: Okay.
Kathi Williams: And that is a topic that I'm not all that comfortable with, but I know you are. And I am so grateful to you that you are. And that's just the general concept of using social media. Sometimes deaf people are assigned to snap away, take videos on their phone and then upload them and put them on their social media sites. One issue is, is that okay to do that? And is that a smart method of advertising?
Kathi Williams: And if Stafford is doing that, if leasing agents and property managers are doing that, what are the issues that they should be thinking about while they're doing that? And I can't even list all the social media sites because I don't know too much about him, but you sure do. So, what do you think about?
Jonathan Saar: Yeah, it's an excellent question. That kind of circles back to a couple of my original statements and just how much are you giving those options to your site team? Or do you have a rigid, rigid policy? Look at episode number five, as we've talked about policies and procedures. What I see missing and in my training classes, Kathi, and we talk about this from a Fair Housing perspective as well, is just the site team.
Jonathan Saar: So the site team has an enormous opportunity to really showcase their personality. When there's so many reviews that are out there often, yes, it's beautiful amenities, what a beautiful property, but 90% of the reviews are about the people who actually work there. So if you're looking for content that is going to be Fair Housing compliant, why not use yourself?Why not use your maintenance team? And have that conversation and see if that can be included in your marketing program.
Jonathan Saar: And that way, people are getting a sense of the community because now that you're showcasing, not the residents in this case, but you're showcasing the people that the residents interact with. And you can't get anything safer than that when it comes to, well, is this going to be compliant with the Fair Housing Act?
Jonathan Saar: The other thing you have to keep in mind from a social media standpoint is, and you mentioned it earlier, is, within the lease agreement, make sure that there is some sort of a model release if you are going to take pictures of some sort of a community event. Now, that may not be as relevant in the context of where we are today. But in general, the common areas within that lease agreement have some sort of a disclaimer saying that there's a model release, that if you're in the common area, you may be used in marketing footage.
Jonathan Saar: So those are some items to keep in mind. But this is an opportunity to really showcase how fun you're and what a great community that you have to live in, a safe... Excuse me. A fun community, one that is really going to connect the resident to the staff members. So yeah, that's my thoughts, Kathi is. I don't know if I covered your question or not, but just really-
Kathi Williams: Yeah, you know-
Jonathan Saar: Go ahead.
Kathi Williams: One thing I worry about with social media is there are some really nasty people out there, who will go on a website, or go on a Facebook site, and say some really horrible things. And what happens with those kinds of posts, because if those stayed there, that gives a impression that this is a community full of anger, or fear, or harassment and discrimination.
Kathi Williams: I remember moving into an apartment one time, and going on one of the social media sites and I saw a number of those posts. And my thought was, I don't want to live there if that's the kind of people that live at that place.
Jonathan Saar: Right. okay. Thank you. That's what it... What an amazing question! A few years ago, the average response time was sometimes days when it came to, for instance, at responding to a review. That is no longer, and has not been, acceptable for some time now. The same goes with, if you have turned the options on your community, your digital community can interact with your social channels, whether they tag your property page or your Instagram account. Anything along that line, you have to have notifications in place that someone is going to respond to that as soon as possible.
Jonathan Saar: And there is absolutely nothing wrong with having overall guidelines for your community that allow to say, you know what? That is not acceptable. And you state. That you make that statement. Maybe take a screenshot and you say, I am deleting this because your comment is not in conjunction with the principles and the community spirit that we have. And so you really, really set the standard.
Jonathan Saar: But the idea is, you cannot wait 24 hours to respond to those. Somebody needs to be really involved. So it's evolved, Kathi. It used to be. The job title was the social media manager or the community social manager, or a few other descriptive items. It's really, there.... It's just the media. That's all it is.
Jonathan Saar: So we've come back to a different world of what public relations are. They're all merged. Marketing, public relations and Facebook, Twitter, Instagram, these are just the distribution outlets. That's all they are. It's not necessarily a social media department. So very, very critical to respond as quickly as possible. And that way, you are keeping your community safe.
Jonathan Saar: And what's amazing with a lot of communities that I've worked with over the years, Kathi, is, because they have such a solid social media presence, they wind up creating what are called brand ambassadors for their community. And it's just awesome to see people jump in, that live at those properties, and say, we do not agree with that, what you're saying is incorrect. And oftentimes it's with other descriptive elements within the context of that conversation, but it really makes the property managers and the staff at those sites.
Jonathan Saar: It just warms their heart to see that they have people who really do love where they live, and that they're ready to stand up to any ones who say anything that is discriminatory, defamatory or anything along that line. Yeah.
Kathi Williams: Well, that's good to know. I think what I'm hearing you say is, if you're going to be out there in the social media world, you've got to take it pretty seriously and actively be participating constantly. Because, as we all know, some of us from personal experiences, a lot of damage can be done out there in social media.
Kathi Williams: But again, as we've said earlier, that fact alone should not keep companies from using it. They just have to use it effectively and successfully. And not just throw it out there and then just leave it alone. Because sometimes what happens is not a positive thing, is not any type of marketing. It's almost the opposite. And so, it's good to know that there's some controls that can be used to prevent that from happening.
Jonathan Saar: Yeah. Absolutely. It's just being in touch with everything. You've made a lot of comments, we've referenced how everything is changing so quickly, words and phrases are changing, the English language is changing, the overall culture that we deal with is changing. Now we're dealing with a much more funneled approach to, at virtual, how we showcase our communities.
Jonathan Saar: And so, this has been an amazing episode to really, let's get rid of the fears, and really bring the Fair Housing Act, the culture, the essence, the principles, the law, into what we're doing. And show to our residents and to our prospects that we embrace the essence of the Fair Housing Act. So yeah, excellent questions, Kathi. Thank you for turning it back on me for a second there. That was great.
Jonathan Saar: So, and any... Great show. Any other couple of quick takeaways to share with the audience before we close out?
Kathi Williams: Again, going back to those social media posts, I think as long as someone is looking at them over a period of time and that if they are off balance, we talked about balance earlier, that they take proactive steps to put them back in balance, by making sure that they are showing a diverse community and covering the various protective categories. Because they might not have been covered just in kind of those Instagram shots.
Kathi Williams: And if they're not, there are ways of going back and putting things in balance consciously, not just by happenstance, but consciously. And that's, I think, the way to maintain balance over a year, let's say, maybe there's a marketing review and things are made sure that they're kept in balance over that time.
Jonathan Saar: Right. Very good. Very good. Well, we want to give a big, big shout out to our community who have subscribed to our YouTube page, who have liked our episode so far. We really appreciate your support of this project that we're involved in to provide valuable, insightful thoughts on the Fair Housing Act, and some specific ways that you can make adjustments within your organization today.
Jonathan Saar: So you haven't done so already, take a moment and subscribe to our YouTube account. Please give us a thumbs up if you've appreciated this material today. This is episode number six, marketing and advertising, and how it relates to the Fair Housing Act.
Jonathan Saar: Kathi, thank you so much for, as always, just amazing thoughts and insightful perspective to share with our audience today.
Kathi Williams: It's great to be with you, Jonathan.
Jonathan Saar: All right, everyone, we'll see you next time. Take care.