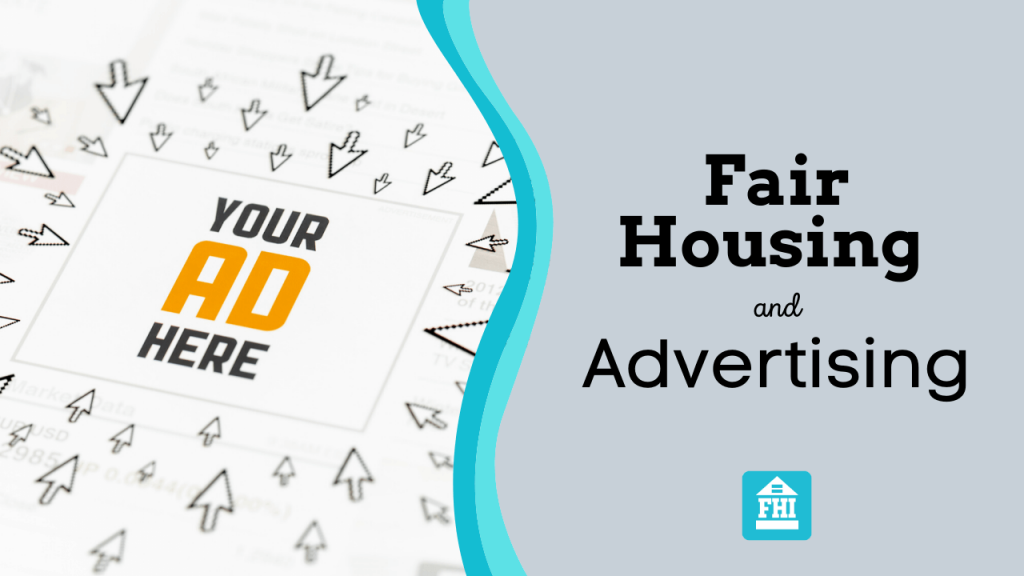 Fair Housing advertising guidelines are a must when developing your marketing and advertising content. Fair Housing issues and violations are more common than you may think. HUD provides advertising guidelines for compliance which this article covers.
In case you're asking yourself why you should read this particular article, the fact is that if you work in the housing industry, you need to know your responsibilities under the Fair Housing Act, because regardless of your position, you are probably "advertising" every day. Fair Housing advertising involves every member of your team.
Take a moment and please subscribe to our YouTube Channel
Click here for the full Fair Housing and Advertising episode transcript
Fair Housing Advertising Media
Advertising under the Fair Housing Act doesn't just mean ads in newspapers. The law says you can't "make, print, or publish. . . any notice, statement, or advertisement . . . that indicates any preference, limitation, or discrimination based on a person's race, color, religion, sex, handicap, familial status, or national origin." That includes such things as applications, flyers, brochures, deeds, signs, banners, posters, billboards, and even pictures in your office.
It also means that the things you say about your property in writing, over the phone or in person are covered. Expressing an illegal preference or limitation to one of your fellow agents, brokers, employees, prospective sellers, renters, or to any other person in connection with the sale or rental of your property is illegal. Here are two examples of illegal advertising that you may not have realized were violations of the Fair Housing Act.
A maintenance man tells a passer-by that "only real Americans" lived in the apartment complex where he worked.
A rental office is decorated with many large pictures of the residents participating in the community's facilities and amenities such as exercising in the weight room, swimming, and playing volley ball and tennis. However, all of the pictures are of white, young, "yuppies;" none of the pictures shows children, or persons of differing races or nationalities.
As you can see it does not take much for a statement to be taken out of context or representation to be misinterpreted.
Policies and Procedures
Condominiums, apartment complexes and mobile home parks that have written rules and regulations have always been fertile breeding grounds for Fair Housing advertising violations. (How many condominium documents still prohibit anyone under 16 years of age from living there, although that kind of "statement" has been illegal for many years?)
The lesson here? Wipe the dust off of your policies and procedures and make sure they are up to date with current Fair Housing advertising regulations.
Phrases and Words To Avoid
The law says you can't use "words, phrases, photographs, illustrations, symbols or forms of any kind" which tend to give the impression that your property is available (or not available) only to certain types of people. Believe it or not, it is still fairly common to see a "no children, no pets" ad. "No pets" is okay; "no children" is not. It is also illegal to advertise for a "Christian roommate," or to indicate any other type of religious preference.
HUD provides Fair Housing advertising guidelines as to what is acceptable in Fair Housing advertising. While advertisements cannot state a preference or limitation based on race or color, statements such as "master bedroom" and "desirable neighborhood" are not illegal. And while religious discrimination is illegal, using words like "kosher meals served on the premises," or including phrases such as "Merry Christmas" or "Happy Easter" in an ad is not discriminatory either.
There are even words that are restricted when it comes to people with disabilities. Obviously statements such as "no wheelchairs" are illegal. However, using phrases such as "great view," "walk-in closets" or "walk to bus stop" is acceptable. There are certain "buzz" words you should still avoid. These are words or phrases that have been associated with discriminatory practices in the past. They include such words as "restricted," "exclusive," "limited," and so forth.
A related article you may enjoy is entitled: Reasonable Accommodation – Accommodating Residents With Allergies
The "good news" is that HUD will consider your use of certain kinds of advertising words and slogans to be evidence of your compliance with the Fair Housing Act. For example, using HUD's "Equal Housing Opportunity" or fair housing logo in your ads will be viewed with approval. Displaying a fair housing poster in your office is another way to advertise in a positive manner. Incidentally, to put one more rumor to rest – use of the logo is not required.
Another way to produce positive advertisements is to vary the use of human models in your ads so that both majority and minority groups in your community, both sexes, persons with disabilities and, when appropriate, children of all ages are represented.
Fair Housing Advertising – The Bottom Line
Fair housing advertising need not be a scenario that causes you unnecessary anxiety. Education and Fair Housing training are an absolute must. Reinforce this training with regular reminders via your weekly calls, company newsletter or something similar. The more interactions that your team members have with residents and prospective residents, the more you want to provide them with positive reminders. You can easily make Fair Housing so scary that it can turn your team into cold robots. Allow them to be human and friendly but with clear and concise direction.
If you or your team are in need of training be sure to check out our Fair Housing online course information.
Fair Housing and Advertising Show Transcript
Jonathan Saar: Hello, everyone. Welcome to the Fair Housing Insiders episode six, very exciting to be at episode six. And we have an amazing topic once again that we're going to discuss Kathi and I today about marketing and advertising, and how to kind of connect that legal department and your marketing department together?
But before we get started, as always, we'd like to share just a short little disclaimer that this show is to address some Fair Housing questions that have come up from our community. Remember our comments are not legal advice. It's always good to confer with legal counsel. Thank you for being here today and we're going to get into our show. Kathi, once again, welcome.
Kathi Williams: Hey, Jonathan, this is an interesting topic. I'm excited that we get to talk about it today.
Jonathan Saar: Me as well, I'm a marketing guy and I love these types of conversations. But I also love this conversation from the perspective of how we don't need to be so rigid just because we have Fair Housing and marketing in the same conversation. As you and I were going over and preparing for this show it got me very, very excited. And what we could present and share with our audience, some great tips, some best practices, some ways to communicate between those two departments and be able to really showcase the community without having a huge fear factor overall.
Let's get into our first point. One question that comes up often, Kathi, is really the definition of an advertisement as it relates to the fair housing act. Can you give us some thoughts on that particular point?
Kathi Williams: Sure. I think the important point is that 20 years ago, what we thought was an advertisement was a much more limited part of what housing providers do. Obviously advertisements are something you see in the newspaper, but as we know now, newspapers are not the primary source of communication and marketing, now it is so much broader.
When we talk about the kind of advertisements that are regulated by the Fair Housing Act, we are talking about billboards. We are talking about social media pages and all of the things that go into creating and updating social media posts. We are talking newsletters that a lot of housing providers put out for their residents every month explaining what kind of activities there are in the latest issues, things like that.
Those newsletters are marketing. Everything that goes into those needs to have an extra look-see to make sure that there's not the kind of concerns that we're going to talk about today. And finally, another advertisement that a lot of people don't think about are the statements made by the staff people. If a leasing agent is talking on the telephone or hopefully, we'll get back to soon leasing agents can take prospects on a walk around the property in those conversations. The things that the leasing agent says to the prospect is also advertising.
Jonathan Saar: Right. There's very actually very few things that are not advertising when it comes to any type of media. I think that's probably a really succinct definition. Anything that is representing your community, representing the company that is in the public space can be considered as regulated by the Fair Housing Act. Is that pretty close Kathi, as a fair summation of-
Kathi Williams: Yes.
Jonathan Saar: Okay.
Kathi Williams: I agree with that.
Jonathan Saar: Okay, cool. I think that'll help, especially for our listeners who this is your first time, you're new in the industry, still trying to wrap your head around maybe your new department, you're new to the marketing department. And it really helps us to understand that there is an opportunity for a lot of creativity and our marketing, but it has to have the culture of the Fair Housing Act as part of it. We're going to get into some more details related to that.
Let's touch briefly Kathi, a lot of people ask us, "Well, should I say this or should I not say this. Is this safe to use? How do I phrase this properly and so on and so forth." We're going to provide a resource for this particular show everyone who's listening. But let's still kind of just touch on it for a minute.
As people are kind of going through that exercise and trying to write their copy and they're trying to make that determination should I or shouldn't? Any just basic tips to help with that thinking process Kathi, any thoughts on that?
Kathi Williams: I think overall, the idea in any effort to market should be to talk about the property, the amenities, the wonderful sales items about that property. And to focus on those in the ad or the marketing effort, what activity, whatever it is, rather than focusing on the current residents that live there or the ideal prospective residents.
The minute you start focusing on residents, you run into a much greater possibility of tripping over the Fair Housing requirements. And I think if everyone would keep that in mind, that would help a lot where I see companies getting into trouble is when... For instance, on that tour that I was talking about earlier, where the leasing agent is walking a prospect through the property, when the leasing agent tries to encourage that prospect to lease an apartment there because of who her neighbors are going to be or not be that's where problems can rise.
Jonathan Saar: Right. Excellent point. And again, everyone we're going to have and again, it's not a comprehensive list. And one of the things that we're talking about Kathi, as we're preparing for the show is that even though we're going to provide this list of words and phrases, what to say, what not to say, and really think of the context of what you're writing your copy it's not an exhaustive list. It doesn't cover every single item.
And what's even more interesting is when we look back 10 years ago, 15 years ago everything has changed as far as what is acceptable phrases. And maybe a few years from now, this list will need to be updated based on how culture has changed and even just the english language or any language for that matter. Wouldn't you agree?
Kathi Williams: Absolutely. We all have to move on with our language based on what's acceptable, what's offensive. And one of my concerns, when we talk about advertising is that there are a lot of probably even lawyers in this country that would discourage use of some words because it just might offend somebody somewhere. And from my perspective, and from the laws perspective that isn't the standard. The standard is, is this term is the use of this term in this way going to offend what we call in the law, a reasonable person.
Not the most sensitive person there ever could be, but your basic reasonable person, if that word or phrase would discourage me as a reasonable person from wanting to live there because of my protected category. And that's what we always have to talk about with Fair Housing because of my race, color, religion, national origin, sex, familial status or disability. And that's just the federal categories. There's also some state and local categories. Did I put in national origin? Jonathan, if I didn't that's another one there.
Jonathan Saar: That's okay [inaudible 00:10:12].
Kathi Williams: Okay. With the seven federal categories we're talking race, color, national origin, religion, sex, familial status, and disability.
Jonathan Saar: Got it.
Kathi Williams: And then there are on top of that the state and local categories. When we're looking at advertisements we're saying, "Would this advertisement," which also as I said, could be a statement, "would it discourage me from wanting to live there." And kind of likewise, if it would encourage me because of my protected category it is also a problem. We don't want to do that. We're trying to market a property without encouraging or discouraging someone because of their protected category.
And we're going to do that hopefully in a way that would again, going back to this reasonable person's standard that would not encourage or discourage someone who's this reasonable person because of their protected category. There are a lot of property companies, management companies in this country that have shied away from so much advertising options because they are afraid of those hyper sensitive people who might get offended with the use of some terms.
And some of them have limited their marketing actions, I think probably excessively because of their fear that someone somewhere might take offense.
Jonathan Saar: Right.
Kathi Williams: I think that's kind of a shame because I always think of Fair Housing as something to be knowledgeable of, sensitive about without being so afraid of it, that you aren't able to do your business in the way it needs to be done. And I don't think Fair Housing does that. I think if you view it as kind of as a whole, that you don't have to be afraid of it. And marketing is one of those examples of where people and companies have gotten so afraid of it, that they've stopped doing an interesting job of marketing.
Jonathan Saar: Yeah. That kind of raises a thought. And I keep myself up to date. Obviously you do way more than I do as far as what kind of Fair Housing legislation is going on, what type of court cases are going on, what is HUD focusing on? And there are cases that are out there that do talk about incorrect advertising that violate the Fair Housing Act.
But by a percentage perspective, if this is a fair question, from what you've seen is it more the training of the individual person and how they understand and comprehend the Fair Housing Act that typically, HUD Fair Housing testers focus on versus the poster that's on the wall or the Facebook post?
Where have you seen like the higher percentage of what HUD is paying attention to when it comes to Fair Housing violations, does that make sense?
Kathi Williams: It does. Advertising is actually not one of the more active areas of enforcement. Enforcement is out there, it's possible. I think we all heard that HUD has filed a charge against Facebook and that was related to advertising. That's certainly got a lot of notoriety and I'm happy to talk about that case and what the issues are in that case.
But basically you don't see a lot of advertising cases these days. There were a lot of cases about when the law changed and familial status became a protected category because of all the properties and some still do advertise themselves as active adult communities. There are no such things under the Fair Housing Act as active adult communities.
Those kind of things still pop up. I see them on billboards in Florida all the time, a hungry Fair Housing Agency is going to jump on that, they're looking for funding and they're going to jump on that as an enforcement action. HUD isn't necessarily looking for those kinds of cases anymore. A case has to be pretty large before the government is going to get excited about it in this day and age.
And certainly there are some general areas that, which is why we're talking about this today to avoid. But I don't think the average marketing department of a housing management company needs to lose a lot of sleep over being so afraid of Fair Housing violations.
Jonathan Saar: Yeah. Beautiful. I love it. That resonated with me. I love it. I think it really provides a balanced approach to our audience to really, again, not to ignore. These comments are not all right, well, now we can have a free for all with your advertising. No, no, not [inaudible 00:16:50]..
Kathi Williams: I hope not. Don't do that.
Jonathan Saar: No, not saying that, no, it's not a free for all. However, it does provide some excellent context for what you can do, which leads to. Let's talk about Facebook for a minute, that particular case and build that into the overall what we're seeing out there. I have a few thoughts. I review property management, social media channels, daily. They're in my feed, on Instagram, on Facebook, on Twitter.
Over 10 years ago, I made this statement and I'm still making the statement today. Your pool is beautiful. There's been no doubt about it. There's no doubt about it.
Kathi Williams: It's a great pool.
Jonathan Saar: It's a great pool, it's a great view. Here we are right now Kathi, with in the current climate even more limited opportunities for in-person interactions with our communities. The in-person tour right now is more challenging. Virtual tours are really, really taking off. They were already have been in place for some time more property management companies are jumping on board.
This is the time even in this conversation, property management companies are looking at more ways to showcase their communities on a virtual level. When we think about what the Facebook case is, and then what you and I were chatting about when we were preparing for this show, we've used the word balance a couple of times.
If a property management company is very consistent in their use of different situations, people from different ethnic backgrounds, people from different familial statuses in their artwork that they use. And consistently have that approach that no matter what they're doing with their media, that they are being inclusive of all of these protected categories. Does that not provide for them a solid basis that their advertising, their marketing is in line with the Fair Housing Act. That was a very long question, what are your thoughts?
Kathi Williams: I think you're very long question Jonathan, deserves a very long answer, which I am very capable of providing those really long answers. I would say that I like to take this back to where it started with Fair Housing concerns. And as with many issues, the pendulum swings too far. And what started out as the concept of let's not have pictures in your leasing offices, let's not have pictures on your websites. Let's not have pictures in your brochures that only show white people and only show people doing active things like swimming and running and playing tennis. And that's the only pictures you have.
That would be what we would say is very unbalanced in marketing to a diverse community. That's where the concern started because that was very common, that was more often than not. And I'll give you an example. And this was many years ago, I walked into one of my client's leasing offices and they prided themselves on being a very active community.
They had all kinds of social activities and outings and had their residents to the clubhouse all the time and they were very proud of that. They did a great job. And they took pictures and then they hung them in the office all around the office in the walls so that when people came in the office, they could see themselves or they could see that if they lived here, they would be part of this very fun, social, active community.
And they spent a lot of money framing those pictures. And I walked in and looked around and thought to myself, this would be a fun place to live, but everyone that lives here is white. And it seems to me like they're advertising to white people and that is the concern.
If that's the concern how do we get to a more balanced approach? Well, if all your residents are white for whatever reason and we aren't assuming that if that's the case, that's because of discrimination. Sometimes that's just because of a lot of reasons that are not illegal. If that's the case, you cannot just show pictures of your residents. You're going to have to hire some models to go be in an apartment or out on the picnic grounds and take pictures of them and put that up there too.
On your brochures you're going to have to make sure that you get pictures of residents of several races and nationalities. And that some of your pictures are of residents or again, models that are disabled. And it doesn't have to be in every single picture that would be overwhelming obviously.
Jonathan Saar: Right.
Kathi Williams: But let's take a view of marketing activities again, in every area. And let's look at them over a six month or a year period. And let's just make sure that in that timeframe, we've got a diverse community that we are suggesting will want to live here in this property and that's the goal. It doesn't have to be an extreme so that you don't show any residents if you can't show one of everybody. A black person, a white person, an Asian person, a Hispanic person, person in a wheelchair, children, old people, you don't have to get all of those folks in every picture.
But why can't you have some pictures with all those folks in over a six month or a year period of time. If you can accomplish that, then you are doing diverse marketing. And that should be the goal not to take out people from your marketing. I think a lot of people reacted to those old cases about only showing white people by taking all people out of their marketing activities. And again, that's an extreme, you really don't have to do that to still comply with law.
Jonathan Saar: Right. That's awesome. Take that. Let's pause, let that sink in for everyone listening and watching the show today. There's so many ways that we can organize things and you touched on so many different things, Kathi. That I looked at as the marketing guy, what are some fundamentals that I have taught people to keep themselves just organized about their content marketing?
There's no reason why everything that you just said cannot be put into some sort of organized format within your content project plan. If it's a column, if it's a checklist. However, you work with your team to develop your content that inclusiveness as you've so eloquently kind of put it for us, should be part of that process and make it easier for your site team.
Property management companies all have a different approach on who handles marketing for them. Sometimes it is the site team that is responsible for their Facebook page or their Instagram account. But the marketing department still has that obligation to kind of create that legal folder. I don't know if that's the right expression or not. But don't make it so difficult on your site teams that they are just, "Well, we're going to default to the pool again."
We have to put an Instagram post out today because corporate says it's Friday and it's time to put an Instagram post out. Well, I don't want to get in trouble with Fair Housing. Look at the beautiful sign in front of the property. And that's what happens is like they just go into this default mode. It's really important from a marketing department standpoint to think forward, kind of have that content plan in an organized fashion so that when it comes to your social media content program, that you are regularly changing things up when it comes to your overall social media.