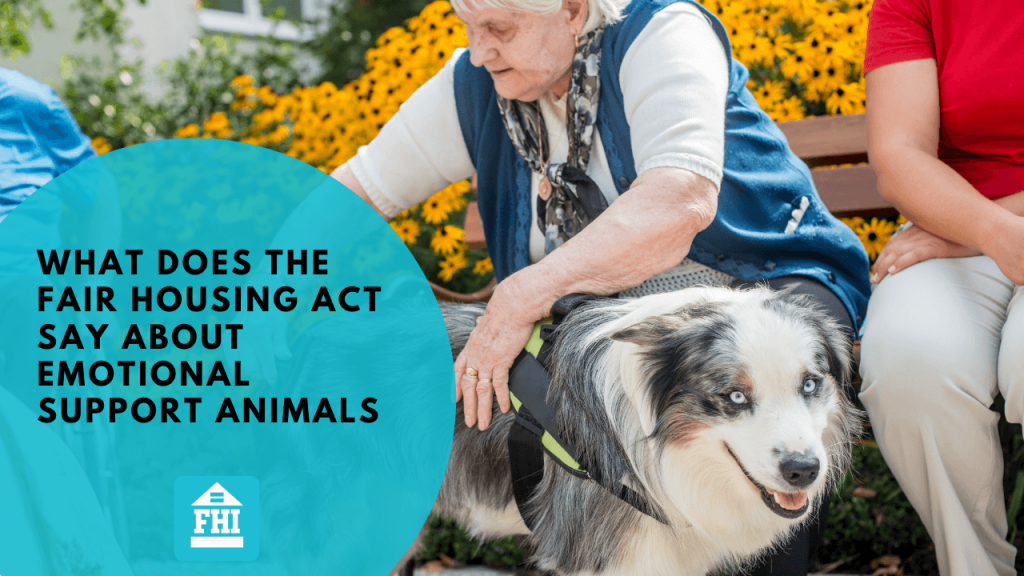 Emotional support animals are a hot topic. In property management, emotional support animals do relate to Fair Housing. Enjoy the episode below or the blog version. Find the answers to some common questions.
Here are the questions we will be discussing in this episode:
What does the Fair Housing Act say about emotional support animals?
Can housing deny an emotional support animal?
Can a landlord deny an emotional support animal based on breed?
What can a landlord require for an emotional support animal?
Is an ESA an assistance animal?
Are emotional support animals covered under the Fair Housing Act?
Are landlords required to allow emotional support animals?
Highlights of Episode 15 – What Does The Fair Housing Act Say About Emotional Support Animals?
Click here for the full What Does The Fair Housing Act Say About Emotional Support Animals episode transcript.
Are emotional support animals covered under the Fair Housing Act?
The short answer is, "Yes." However, there are steps to be taken to verify anyone claiming this status for their pet. Having a process in place beforehand will help streamline the accommodation request. Let's take a look at some common problems that the housing industry must overcome.
Can a landlord deny an ESA based on breed/size?
Imagine this scenario. Hi, meet my emotional support dog. Kujo the 100 pound Pit Bull. Oh boy! Many communities have breed/weight restrictions. But do these apply to ESAs? Before you even address the 100-pound dog in the room, start at the basics. Complete an application for housing. If the application is approved, now move on to processing a reasonable accommodation request. At this point, if the animal is verified as an emotional support animal, accommodations must be made, regardless of breed or size.
What can a landlord require for an ESA?
Next up is the undisclosed animal. You have just had a conversation with a tenant under the impression that an emotional support animal doesn't need to be disclosed. What now? More than likely, you are also being presented with an ESA letter. Unfortunately, many of these are boilerplate letters from the Internet. Even though your first instinct might be to issue a lease violation, it is now your job to verify the letter. You can do this by asking the following questions.
You can ask the resident:
Did you contact the verifier for the sole purpose of obtaining an ESA letter?
Have you had more than one or two brief contacts with the verifier for the purpose of providing a verification?
Does the verifier have personal knowledge of your disability and need for an animal?
Has the verifier provided you with medical or mental health services?

You can ask the verifier:
Did the resident contact you for the purpose of obtaining a verification?
Other than providing a verification for an assistance animal, do you have an ongoing professional relationship with the resident by providing medical or mental health services beyond providing a verification?
Do you have adequate personal knowledge of the resident to be able to make a diagnosis of a disability? Please note: we are not requesting that you provide the diagnosis.
As you can see from the above questions, the burden of proof lies in the relationship that the verifier has with the resident. If established, you must make accommodations. If not, then you are free to move forward with issuing a violation notice.
Can housing deny multiple emotional support animals?
As accommodations for emotional support, animals have become more commonplace, a new problem has surfaced. Residents are asking for more than one emotional support animal. Again, your first thought might be to say "No bluntly," but this would not follow best practices. Instead, you need to follow the same protocol as you would for one pet, but with some additional steps. Additionally, the resident needs to explain what type of individual service each animal provides. Next, you would move on to the verifier. Review the verification letter to see whether it shows personal knowledge and an ongoing relationship with the resident. Next, verify if it explains the different services each pet provides. If the information doesn't match or separate services haven't been documented, it does not meet the criteria for adequate verification for multiple animals.
So as you can see, there are many different scenarios that you will contend with when it comes to ESAs. Having a reliable process in place that includes documentation and verification should ensure Fair Housing Compliance.
You May Also Like: Assistance Animals and the HUD Notice
Transcript – What Does the Fair Housing Act Say About Emotional Support Animals?
Jonathan Saar: Hello everyone, and welcome to episode 15 of the Fair Housing Insiders and believe it or not, we are in season two. So welcome to 2021. And Kathi, it's so exciting to be in our second season and to start us off with a new set of great educational topics for our community. Welcome again to the show.
Kathi Williams: Hey Jonathan, and I totally agree. I have a feeling that this is going to be quite the year for Fair Housing, and we're going to be right there throughout the year, talking about it, thinking about it and offering our very best suggestions for our housing community.
Jonathan Saar: Yeah. And a great subject that we're going to dig into again today talking about assistance animals and emotional support animals. Out of all the sessions that we've talked and discussed and wrote about on the website, that was one of the most popular for 2020 was assistance animals and dealing with some different scenarios. So thank you everyone for being here. Just a reminder, don't forget to subscribe to the channel and hit that little bell, so you're notified whenever there's a new season or excuse me, a new episode in session that comes available. We're moving to a lot more sessions going into 2021 because there's just so many topics that we feel are so valuable and we want to make sure we get this information to you. So thank you again for being here with us today. So today's topic is about assistance animals and about emotional support animals.
Jonathan Saar: But what we're going to look at today, and Kathi's really going to dive in for us is some different scenes that many property managers and leasing professionals face when a resident or a prospect walks in the door. We're going to focus on three particular scenes and play the scene for you and then we'll have Kathi's feedback on, okay, what should you do in these types of scenarios. A lot of questions come up such as what does the Fair Housing Act say about emotional support animals? Can a housing provider deny an emotional support animal? Can Reid restriction be applied to an emotional support animal or an assistance animal?
Jonathan Saar: So lots of questions that you've asked that these scenarios will definitely address and be able to help you stay Fair Housing compliant and that's the idea, isn't it? So our first scene, we're going to take a look at, so just imagine a prospect comes and wants to rent an apartment from you and they have 100 pound pitbull named Cujo. How would you react when a prospect comes to you with this type of animal and says that they're an emotional support animal? Well, let's take a look at our scene and then we'll get Kathi's feedback on it.
Speaker 3: I'm looking for a place to live that will accommodate me and my dog Cujo.
Speaker 4: Cujo, what a fun name. I bet Cujo is a tiny five pound Chihuahua, right?
Speaker 3: Actually, he's 100 pound pitbull, but he's my emotional support dog and I can't live anywhere unless he comes with me.
Speaker 4: Oh, well that's different. I'm sorry, but like most communities in the area, we have breed and size restrictions for pets and sadly Cujo doesn't qualify. Maybe you could look to find a private home or an apartment for rent.
Kathi Williams: Well, the problem with the response by our leasing agent who tends to do a lot of things wrong, if you'll notice in our little scenes, is that at least from what the applicant or the prospect is saying, this is not a pet.
Jonathan Saar: Mm-hmm (affirmative).
Kathi Williams: If indeed, it is an emotional support animal, then you cannot apply your pet restrictions, which probably includes size and breed restrictions, you can't apply those to an assistance animal, which would include an emotional support animal. So the response is completely wrong. Instead, the response should be that, first of all, let's let that prospect apply for housing, get accepted into your housing, and then let's process a request for a reasonable accommodation using your forms and your procedures and your documentation to decide whether we can indeed, or whether you should acknowledge that dog as an emotional support animal. If so, then regardless of Cujo's size or breed, Cujo's probably going to live at your property with his or her owner.
Jonathan Saar: Right, right. Very good. Thank you for explaining that. So don't do what that leasing professional did in that scene. That's the big time takeaway and follow your policies and procedures, so that's a common scenario that comes up. So our next scene involves a non-observable disability from an existing resident. So an existing resident is there, lives there and then management finds out that they have a cat and it wasn't disclosed. So let's look at our scene, see how it's handled and we'll get your feedback on what you should do. Let's take a look.
Speaker 4: Mr. Katz, I'm calling because our maintenance team has reported that they saw cat in your apartment when they went into service, your dishwasher. Your lease doesn't show that you have a pet and it's a violation of your lease to have a pet without notifying management and paying pet rent.
Speaker 5: I don't need to let you know I have a disability and I can have my cat live with me if I want to. I even flew to visit my daughter and they let her come on the plane with me because I have a letter that says she's my support animal.
Kathi Williams: This scenario presents a couple of problems for our friendly leasing agent. The first problem is that the resident did not identify that they had this cat, and it's probably a violation of the rules to have an animal that you don't identify to management when you bring the animal in your property. So the first instinct for most leasing agents is to issue a lease violation, maybe even a termination notice because of this violation, and that might be okay eventually. The first thing though, that has to be addressed is that when the resident identifies that cat as an emotional support animal, now you have to process that request. You can't terminate the resident and then process it, you process it immediately upon the resident raising it and decide whether they actually can verify that that cat is necessary because of a disability.
Kathi Williams: Now, in this scenario, the resident is waving around an ESA letter that apparently they got off the internet and it's not hard to do that. And a lot of people who are trying to pretend a pet is an emotional support animal is finding their way to therapists around the country, who they get referred to by those online certification companies. And then once they talk to the therapist, then the therapist sends them out a boiler plate ESA letter that says they get to have this animal, that they're disabled and usually throws in something about the airlines as well, by the way, that's how oftentimes you'll know that they're a ESA purchased verification letter.
Jonathan Saar: Yep.
Kathi Williams: So that when the housing provider is deciding whether to grant this cat recognition as an emotional support animal, it's going to have to decide whether this ESA letter actually shows that this verifier who signed it has personal knowledge of this resident, of their disability and of their need for this animal. And if it doesn't, then that ESA letter is not going to be what we call reliable verification, justifying that emotional support cat.
Jonathan Saar: Very nice. What an excellent explanation. So thank you for that. A lot of details to be considered in those scenarios. And it's been a pain point for our industry, these ESA letters that can be purchased online. So excellent walkthrough, Kathi, on what can and should be done in those scenarios. And again, to make sure that you're fair housing compliant and we take care of our residents and we take care of our company also. So that leads us to our third scenario that we're going to discuss today. And this scene is more along the lines that we've got an applicant that's approved to live in the community. And after that approval then comes in with an ESA and states that they have multiple pets. They have two dogs that need to be with them. So let's take a look at our scene involving this particular instance, and we'll get your take on that Kathi.
Speaker 6: I'm moving in on Friday and I just wanted to let you know that I have two dogs that are moving in with me. I have a letter here that shows that they're both emotional support animals.
Speaker 4: Wait, you have two emotional support animals. You can't have two. I've never heard of anyone needing two support animals.
Kathi Williams: This scenario is one that unfortunately is getting to be more and more common. Now that housing providers around the country have been permitting assistance animals as a reasonable accommodation to their pet policy, now residents are asking for more than one assistance animal, and this needs to be processed. This should not be just rejected like it was by our leasing agent in this scenario. You might end up getting to say no at the end, but first you have to process it. So in this case, again, we have one of these boiler plate purchased ESA letters, and you have to review the letter to see whether it shows personal knowledge of the resident and whether it explains the need for each of those two dogs. If it doesn't, it's not adequate verification to verify why does this person need two? So the request form you send to your resident at the point they let you know they've got two dogs or your prospect or your applicant, whoever, should ask about the need for each animal.
Kathi Williams: And the resident should first have to explain why they need animal one, why they need animal two and sometimes even I've had situations where they asked for three, and then you look at those, if those are all the same reason, then they don't need two or three. Then when you go to the verifier, you again ask why is animal one needed, animal two needed and you see what the verifier says, does it match what the resident says? And does it indicate a different and separate need for each animal? If not at that point, the housing provider is able to reject the request for two animals. Let them know if you're going to accept one animal and give the reason that they were not able to provide verification of need for both animals. So those are going to be common occurrences and you need to pretty much be ready to deal with those multiple assistance animal requests.
Jonathan Saar: Right. Very good. I noticed a lot of common words in all three scenarios. There's a process, there's documentation. And it's really important to not be tainted by media because there's a lot of news articles out there about this topic. Airlines are talking a lot about it, we know there's a lot within our own industry, of course, that are talking about it, but it's really well said Kathi, how we have to follow that process. We have to understand what the Fair Housing Act states and how it relates to emotional support animals and assistance animals. So very, very good. Thank you so much for some nice, clear explanations on what we can do. So we're happy, again, right Kathi? Here we are. Episode 15, season two, lots of streamers and balloons and yeah, here we are. We had a great year in 2020, and so grateful to start off 2021 with this episode that has been a very, very popular topic.
Jonathan Saar: So just remember, please hit that subscribe button. Please hit that notification bell as well. Give us the thumbs up if you've really enjoyed this episode and be sure to check out our other episodes. At the end of this video, there'll be another suggested video that you may not have seen before. So stick around to the end to see if there's other content that you feel would be a benefit to you and share this with your team. Use this in your Fair Housing training that you use with your site team or at your leadership conferences. Lots of benefits that can be made from these complimentary educational episodes that the Fair Housing Institute provides. So we want to appreciate you being here. Be sure to check out fairhousinginstitute.com, see all of our online course options. And again, thank you Kathi, for your insights. And we look forward to seeing you on our next episode. Take care, everyone.