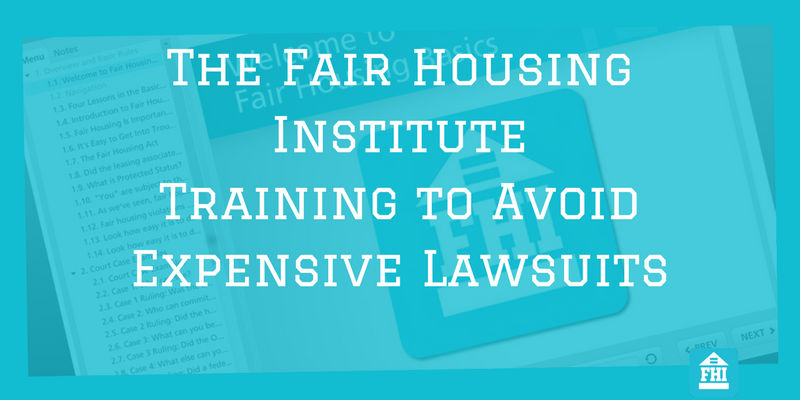 FHI – Affordable Mitigation To Avoid Expensive Litigation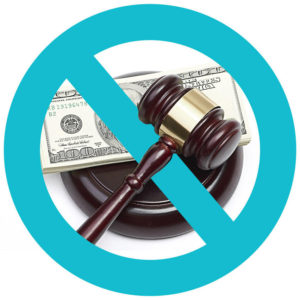 We at The Fair Housing Institute, Inc. are Fair Housing attorneys and training professionals who have been providing Fair Housing training and legal advice to housing providers and trade associations for over 35 years. In 2005 Kathi Williams and Terry Kitay founded this company with one goal: to provide the country's most educational and entertaining fair housing compliance training at an affordable price, all at the click of a button.

We are able to provide the best training available because we offer the only online Fair Housing training in the country written by practicing fair housing attorneys. Kathi and Terry's decades of experience training, advising, and litigating, allow them to break down complicated compliance issues and explain them in a way that is easy for everyone to understand. With the addition of Doug Chasick, we've added decades of classroom and online training and operations experience which allows us to better anticipate and accommodate the many different training and development needs and styles of our customers.
For years many companies have relied on classroom seminars to provide training. While in-person training is a great option for some companies, others do not have the time or resources to allocate to live training. At The Fair Housing Institute, Inc. we provide training options for every company whether you are training one person or ten thousand. There's no traveling or off-site time. We deliver interactive, comprehensive, and thorough Fair Housing online training right to your employee's computer, tablet, or smartphone!
At The Fair Housing Institute, Inc. we are proud to have been working with companies and training tens of thousands of employees for decades. We have continued to grow our relationships in the housing community because housing and management companies across the country recognize Kathi Williams, Terry Kitay and Doug Chasick as the foremost experts in their field. Get to know our team below.
Kathelene Williams
Kathelene (Kathi) Williams is a partner in the Law Firm of Williams & Edelstein, P.C. providing defense and preventative representation for the housing industry in all civil rights matters. Kathelene is a co-founder and partner in the Fair Housing Institute, Inc. a full-service training and consulting firm whose mission is to educate and advise the housing industry throughout the country about the social and economic benefits of providing fair housing and equal employment. Kathi Williams represents housing industry clients from throughout the country on fair housing and other civil rights matters.
Kathi Williams provides her clients with a unique expertise in the fair housing requirements of senior and federally assisted housing and has contributed to numerous housing industry publications. In her previous positions, Kathi Williams served as a fair housing and employment attorney and as Director of the Fair Housing and Equal Opportunity Program for HUD's Southeast Region. Throughout her career, Kathi Williams has participated in the investigation, resolution, and litigation of thousands of fair housing cases. In addition to her responsibilities as legal counsel, Kathi Williams has provided fair housing and equal employment training to private housing providers, associations, and government entities throughout the country for the past thirty years.
Kathi Williams graduated magna cum laude from Ball State University in Muncie, Indiana with degrees in Social Work and Urban Planning, and from Indiana University Law School in Indianapolis, where she obtained her law degree and served on the Law Review and Board of Barristers. She lives in the Atlanta area.
Theresa L. Kitay
Theresa (Terry) L. Kitay is a co-founder and partner of The Fair Housing Institute, Inc. Terry provides general consultation and defense representation on civil rights issues for the housing industry through her law firm Theresa L. Kitay, Attorney At Law, located in North Carolina. In her law practice, Terry represents owners, developers, managers, architects, and engineers of multifamily housing throughout the country. She provides a unique expertise in the accessibility requirements for developing and modifying multifamily housing.
Terry is the author of "Fair Housing and Accessibility Issues in Multifamily Rental Housing" in the Georgia Apartment Law Book, and "Americans with Disabilities Act and its Incorporation into California Law" in California Fair Housing and Public Accommodations. Terry also served as a subject matter expert for the National Apartment Association's "Accessible Construction" DVD training. She is a frequent contributor on fair housing and related issues to such national publications as Multifamily Executive and Units and has testified before the United States House of Representatives on fair housing and accessibility issues.
Terry often provides live fair housing training to private housing providers, housing authorities, architects, engineers, builders, and trade associations throughout the country. Prior to starting her private practice of law in fair housing defense, Terry served as a Trial Attorney for the United States Department of Housing and Urban Development in the Southeast / Caribbean Region, Atlanta office, where she had primary responsibility for the prosecution of "cause" findings made by HUD's Office of Fair Housing and Equal Opportunity.
She is an honors graduate of both Smith College and the Emory University School of Law and is a member of the California, Georgia, and North Carolina state bars. Prior to her 2016 move to North Carolina, Terry lived for twelve years in Los Angeles, California, where she became intimately familiar with the intricacies of fair housing under California's unique state laws.
Douglas D. Chasick, CPM®, CAPS, CAS, SLE, Adv. RAM, CLP
Doug has over 40 years of hands-on property management experience, gained from on-site, supervisory, consulting and executive positions with such industry giants as Johnstown Properties, R & B Realty Group (Oakwood), The Related Companies and First Capital Companies. He began his career as a Resident Manager for a 524-unit apartment property and has since been responsible for portfolios of over 28,000 apartments, and more than 8 million square feet of commercial, retail and industrial properties.
An accomplished author with numerous articles published in the UNITS Magazine, Journal of Property Management, The Apartment Professional, Sales & Marketing Magic for Apartment Managers™ and many regional and local property management publications, Doug was the Editor of NOI News™, a web-based subscription newsletter for multifamily professionals, and is a co-author of the books "Outstanding Facilitation Techniques", "The Apartment All Stars Complete Guide to Leasing Apartments" and "How to Excel in Leasing". Doug has spoken many times at the annual NAA, IREM and NAHB educational conferences; The Annual Brainstorming Sessions; Multi-Housing World; at many apartment association events and annual conferences, and for many private company conferences.
Doug is the 2010 recipient of the Apartment Career and Education (ACE) Award for Professional Educators from The National Apartment Association Education Institute (NAAEI) and the 2010 "Legends of the Industry" award from Multifamily Pro and the Annual Brainstorming Sessions. He was the 2003 & 2004 President of the Space Coast Apartment Association and has served on the Board of Directors of the National Apartment Association as the Region III Vice President and on the Board of Directors of the NAAEI.
He was the 1998 & 1999 Chairman of the Editorial Advisory Board of UNITS Magazine. A past Chairman of the RAM Board of Governors, a RAM Life Governor and a past Trustee of NAHB's Multifamily Council, Doug served on the Grace Hill Board of Educators, and serves on the Board of Advisors for FAIR HOUSING COACH, TAX CREDIT HOUSING MANAGEMENT INSIDER and ASSISTED HOUSING MANAGEMENT INSIDER.
Doug earned his Certified Property Manager (CPM®) designation in 1978 from the Institute of Real Estate Management. He served as a member of the National Faculty of IREM for eight years, teaching Course 101, "Successful On-Site Management", Course 301, "The Marketing and Management of Residential Property" and Course 400, "Managing Real Estate As An Investment". A member of the National Apartment Association Education Institute National Faculty, Doug is a Senior Instructor for the NAAEI Advanced Instructor Training Course and also teaches the NALP, CAM, CAS and CAPS courses for NAAEI and many NAA affiliates.
Doug is licensed as a Real Estate Broker in Florida, certified as an Expert Fair Housing Instructor by the Commonwealth of Virginia, received his Synchronous Learning Expert (SLE) certification in 2006 and Certified Distance Learning Educator (CDEI) certification from ARELLO/IDECC in 2009.