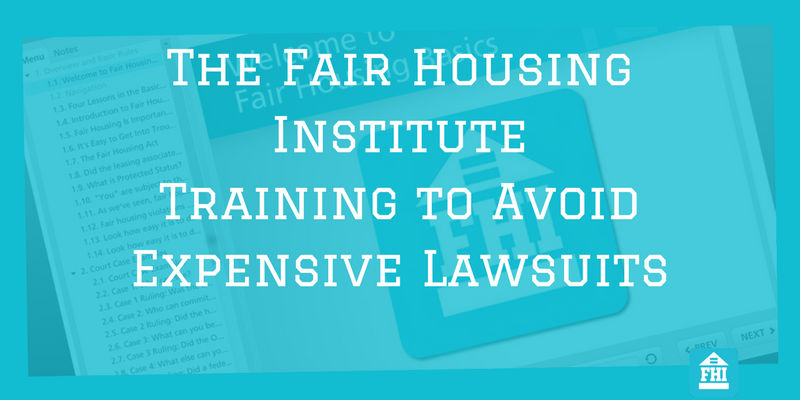 Fair Housing Institute – Affordable Mitigation To Avoid Expensive Litigation
In 2005, The Fair Housing Institute was founded as a company with one goal: to provide the country's most educational and entertaining fair housing compliance training at an affordable price, all at the click of a button.

We are able to provide the best training available because we offer the only online fair housing training in the country whose content comes directly from a fair housing and civil rights defense firm. Their decades of experience training, advising and litigating, allow them to break down complicated compliance issues and explain them in a way that is easy for everyone to understand.
Fair Housing Training Options
For years many companies have relied on classroom seminars to provide fair housing training. While in-person training is a great option for some companies, others do not have the time or resources to allocate to this method of training. At The Fair Housing Institute, Inc. we provide training options for every company whether you are training one person or ten thousand. There's no traveling or off-site time. We deliver interactive, comprehensive, and thorough Fair Housing online training right to your employee's computer, tablet, or smartphone!
At The Fair Housing Institute, Inc. we are proud to have been working with companies and training tens of thousands of employees for decades. We have continued to grow our relationships in the housing community because housing and management companies across the country recognize the level of expertise we bring to the table.
Kathelene Williams
Kathelene (Kathi) Williams is a partner in the Law Firm of Williams Edelstein Tucker, P.C. providing defense and preventative representation for the housing industry in all civil rights matters. Kathelene is a co-founder and partner in the Fair Housing Institute, Inc. a full-service training and consulting firm whose mission is to educate and advise the housing industry throughout the country about the social and economic benefits of providing fair housing and equal employment. Kathi Williams represents housing industry clients from throughout the country on fair housing and other civil rights matters.
Kathi Williams provides her clients with unique expertise in the fair housing requirements of senior and federally assisted housing and has contributed to numerous housing industry publications. In her previous positions, Kathi Williams served as a fair housing and employment attorney and as Director of the Fair Housing and Equal Opportunity Program for HUD's Southeast Region. Throughout her career, Kathi Williams has participated in the investigation, resolution, and litigation of thousands of fair housing cases. In addition to her responsibilities as legal counsel, Kathi Williams has provided fair housing and equal employment training to private housing providers, associations, and government entities throughout the country for the past thirty years.
Kathi Williams graduated magna cum laude from Ball State University in Muncie, Indiana with degrees in Social Work and Urban Planning, and from Indiana University Law School in Indianapolis, where she obtained her law degree and served on the Law Review and Board of Barristers. She lives in the Hilton Head area.
Michael Coughlin
Michael Coughlin is a strong advocate for the fiscal and logistical importance of fair housing training for all members and employees of the housing industry. His 15 years in sales and customer service plays a pivotal role in identifying our client's training needs and goals.
Over the last 5 years, he has formed strong bonds with members of the housing industry all over the country. Michael enjoys working closely with his clients to ensure that they understand all of our training options and can implement them effectively to form a strong training model that can be used for years to come.
Michael is a resident of Atlanta, GA. He has been the Vice President of the Fair Housing Institute since 2018.
We express our special thanks to Theresa Kitay and Doug Chasick who were instrumental in the founding and direction of The Fair Housing Institute. We wish them all the best in their future endeavors.